WALNUT POINT STATE PARK LAKE
WALNUT POINT STATE PARK LAKE
Although Walnut Point has numerous, developed recreational facilities, it still maintains many of its original natural features and attributes. Ash, oak, hickory, maple, walnut, locust and sassafras trees dominate the park's extensive wooded acres. The park features two winding and scenic tree-lined drives for motor vehicles. The roadsides are especially beautiful in the Spring when the redbuds and wildflowers bloom, while fall foliage colors are varied and spectacular. In addition, the park is home to a prairie restoration plot and a 65-acre nature preserve, Upper Embarras Woods.
Walnut Point was named for Douglas County's first pioneer settlement. No longer in existence, the community was established in the 1830's about 2 miles from the park site. The park opened in 1968 and is managed by the Department of Natural Resources.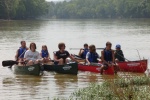 A store that caters to all of your boating, hunting, fishing and outdoor adventure needs. We offer canoe and kayak rentals for one and two day trips on the White River. New G3 brand jon boats as well as a used inventory. NEW White River Cabin on a peaceful river bank setting.
97.3 miles from park*