TALLULAH GORGE STATE PARK
TALLULAH GORGE STATE PARK
338 Jane Hurt Yarn Dr
Tallulah Falls, Georgia   30573
Phone: 706-754-7970
Reservations: 706-754-7979
One of the most spectacular canyons in the eastern U.S., Tallulah Gorge is two miles long and nearly 1,000 feet deep. Visitors can hike rim trails to several overlooks, or they can obtain a free permit (limit 100 per day) to hike down to the gorge floor. A suspension bridge sways 80 feet above the rocky bottom, providing spectacular views of the river and waterfalls.

Exhibits in the park?s Jane Hurt Yarn Interpretive Center highlight the rich history of this Victorian resort town, as well as the rugged terrain and fragile ecosystem of the area. Additionally, an award-winning film takes viewers on a dramatic journey through the gorge.

Permits are required for all people accessing the gorge floor or rock climbing/rappelling. The only approved trail for entering or leaving the gorge floor is the Hurricane Falls staircase. Both the Hurricane Falls staircase and gorge floor are very strenuous. Trails entering or exiting the gorge, as well as those on the gorge floor, are very strenuous. Visitors with health problems should not attempt to climb these trails. Children MUST be closely supervised at all times.

Tallulah Gorge State Park is operated by a public-private partnership with Georgia Power Company. Many facilities, including the campground, are operated by Georgia Power rather than the Department of Natural Resources.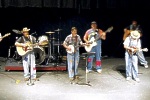 Built in 1986, the four story Pumpkintown Mountain Opry building is a monument to old-world craftsmanship and home of the restaurant and shops. We invite you to enjoy the theater arts of the Pumpkintown Mountain Opry or come relax on the porch and enjoy some ice cream or our great coffee.
30.5 miles from park*
During deer hunting season (Sept. 11 - Jan. 1) Stoneplace Trail permits will not be issued until after 10 a.m. and hikers/bikers are encouraged to wear reflective orange.