STONY BROOK STATE PARK
STONY BROOK STATE PARK
10820 Route 36 South
Dansville, New York   14437
Phone: 716-335-8111
Stony Brook State Park's terrain comprises hilly woodlands, a deep gorge with rugged cliffs overlooking three waterfalls and fascinating rock formations. 125 tent and trailer campsites are scattered in the woodlands above the gorge in the upper or south end of the park. Visitors can hike rim, gorge or nature trails, play tennis on park courts, picnic or swim in either of two stream-fed pools. In winter, three miles of cross-country trails are available for skiers. Some winter hiking is allowed, but not on the gorge trails.

There is only one dumping station available at Stony Brook State Park.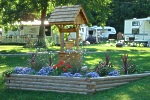 Holiday Hill Campground, located just 40 miles south of Rochester, in the western Finger Lakes Region of NY, has what youve been looking for. At Holiday Hill you can enjoy great camping and also visit nearby attractions such as Widmer Winery and other attractions nearby.
9.9 miles from park*
The newly restored Hotel Clarence builds upon its rich history of social importance in the Finger Lakes Region with a unique and fresh feel. This modern boutique hotel and its exceptional restaurant have again become a vibrant social center and premier destination for guests.
53 miles from park*