STEPTOE BATTLEFIELD STATE PARK
STEPTOE BATTLEFIELD STATE PARK
Steptoe Battlefield is a four-acre, day-use park in Rosalia. This is the site on May 17, 1858, where Lt. Col. E.J. Steptoe led 159 American soldiers in a running fight with a large band of Spokane, Palouse and Coeur D'Alene Native Americans. The American soldiers beat off a series of attacks until night halted the battle. With ammunition almost gone and facing disaster, Lt. Col. Steptoe and his men retreated with their wounded and under the cover of darkness to Fort Walla Walla. The park features a monument with interpretive signs in memory of the battle between a band of Palouse, Spokane and Coeur D'Alene Native Americans and 159 American soldiers.

Park hours/updates:

The park is open year round.

Summer: 6:30 a.m. - dusk Winter: 8 a.m. - dusk
Wildlife Mammals Birds Fish & Sea Life? Badgers? Bobcats? Chipmunks? Coyotes? Deer or Elk? Marmots? Moose? Rabbits? Raccoons? Chukars? Crows or Ravens? Doves or Pigeons? Ducks? Geese? Grouse? Gulls? Hawks? Herons? Hummingbirds? Jays? Ospreys? Owls? Pheasants? Quail? Turkeys? Woodpeckers? Wrens

Environmental Features Physical Features Plant Life

Ponderosa Pine? Maple? Berries? Carnivorous Plants? Moss or Lichens? Thistle


A 25-foot granite memorial erected by Esther Reed Chapter of the Daughters of the Revolution in 1914 marks the authentic site of Steptoe Battlefield. This battle, the last defeat of the U.S. Army by Native Americans was fought in May 1858 with Lt. Col. Steptoe in command.
Available in the area ? Auto repair? Airport? Camping? Diesel? Fishing/hunting? Gasoline? Gifts? Groceries? Pay phone? Postal service? Propane? Swimming

Bank or cash machine also are available nearby.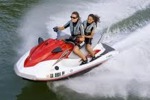 We rent premium well maintained equipment including SKI BOATS, JET SKIS, and PONTOON BOATS We are located at Sunbanks Lake Resort outside of Electric City, which is 20 minutes from Steamboat Rock State Park, 35 minutes from Sun Lakes State Park, as well as only 5 minutes from Grand Coulee Dam. We also deliver to the surrounding areas. Call 509-681-0283 or 509-633-8079
93.1 miles from park*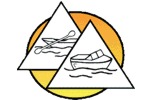 We provide the largest range of water sport activities in North Idaho. We supply Lake Coeur d alene with boat rentals, pontoon rentals and waverunners often refered to as a sea doo. We located in the quaint little town of Harrison on the southern end of Lake Coeur d Alene.
31.1 miles from park*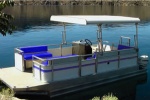 An industry leading series of high quality, reliable, durable and complete pontoon leisure craft and work boats. These classic custom pontoon watercraft products are designed to meet the demands of owners and the public for safety, comfort and long lasting value.
30 miles from park*