SILVER LAKE STATE PARK
Silver Lake State Park spans 80 acres and its sandy 1,000-foot beach curves along 34-acre Silver Lake. Popular activities in the park include swimming, picnicking, and boating. Amenities include picnic tables, kayak and paddleboat rentals, flush toilets, and a park store.

The park is open weekends from mid-May to mid-June, and daily from mid-June to Labor Day. Admission is $3 for adults; $1 for children ages 6-11; children ages 5 and under and NH residents age 65 and over are admitted free.
Granite State Rod & Reel
6 Holbrook Dr
Nashua, NH
(603) 880-6031
Mark's Wholesale Bait Co
7 Brook St
Nashua, NH
(603) 882-4934
Pete's Gun & Tackle Inc
2 Dracut Rd
Hudson, NH
(603) 889-0684
Hawkeye Hunting & Fishing News
100 Summer St
Milford, NH
(603) 672-3836
Hudson Fish & Game Club Inc
53 Pine Rd
Hudson, NH
(603) 889-9875
Mark's Wholesale Bait Co
20 Pond St
Nashua, NH
(603) 881-8070
Horseshoe Fish & Game Club
44 Greens Pond Rd
Merrimack, NH
(603) 424-9646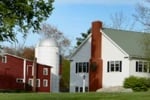 Hotels/Motels
Located on over 100 wooded lakefront acres, overlooking Ashland State Park. Right out our front door you get to truly enjoy the great outdoors. Easy access to trails for hiking, and an area for swimming. Come and enjoy all that Ashland State Park has to offer, and stay at the Warren Center right next door.
36.8 miles from park*