SHEPPERDS DELL STATE PARK
SHEPPERDS DELL STATE PARK
In 1915, a local dairy farmer named George Shepperd gave all that he had (this tract of land) to the City of Portland as a memorial to his wife. Today, thousands of visitors along the Historic Columbia River Highway visit this beautiful spot, with its roaring waterfall cascading down steep cliffs into Youngs Creek and out to the Columbia River far below. The upper fall is around 42' tall. The lower tier is around 50' tall.

One of the most beautiful and historic highway bridges crosses the canyon here, but you can?t see or appreciated it unless you leave your car and take the short trail to the falls.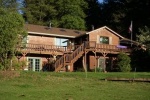 Cottages and Cabins
A hostel, guesthouse, bed breakfast, located in the Columbia River Gorge and only 40 minutes from Portland Oregon. Remote, rustic, yet wireless and so very comfy. Welcome to our lodge turned rental Our 43 acre ranch cum vacation rental is situated at the scenic mouth of the Columbia River Gorge National Scenic Area.
2.9 miles from park*