SAMUEL S LEWIS STATE PARK
SAMUEL S LEWIS STATE PARK
Lewisberry, Pennsylvania   17339
Phone:
717-432-5011
Toll Free:
888-727-2757
Reservations:
888-727-2757
Email:

This 85-acre state park is dominated by Mt. Pisgah, an 885-foot high ridge separating Kreutz Creek Valley and East Prospect Valley. The overlook offers a spectacular view of the Susquehanna River Valley. The park landscape consists of mowed grass fields on the northern and eastern park slopes, pine plantations in the southern area and mature woods on the western section of the park.
Samuel S. Lewis State Park was named to honor the Secretary of the Pennsylvania Department of Forest and Waters from 1951-1954. Samuel S. Lewis donated 35 acres of his farm to the Commonwealth in 1954. Lewis convinced Walter Stine to sell his arboretum to the Commonwealth for a reasonable price. The Commonwealth then purchased an additional 35 acres of the adjacent Almoney Farm to complete the initial park tract. The park opened to the public on July 4, 1954. The Department of Conservation and Natural Resources purchased an additional 14 acres of land in 1999.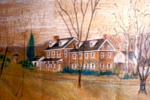 BBs / Inns
In a secluded valley, on 120 acres between a lake and a natural park, Speedwell Forge BB is a hidden gem in Lancaster County. Yet it is only minutes to the historic towns of Lititz, Manheim, and the rest of Pennsylvania Dutch County.
19.1 miles from park*
---
Samuel S Lewis State Park is located near Columbia, Dallastown and Elizabethtown

Susquehannock State Park
---
There are picnic tables, a ball field and playground equipment. Three picnic pavilions may be reserved up to 11 months in advance for a fee by calling 888-PA-PARKS. Unreserved picnic pavilions are free on a first-come, first-served basis.
---
---
Yorkanna Game & Gunning Club
468 Smyser Rd
Yorkana, PA
(717) 244-4289
Susie Dombach's Rod & Reel
2637 Ironville Pike
Columbia, PA
(717) 684-7619
Bullrun Bait & Tackle
Bullrun Rd 1
Wrightsville, PA
(717) 252-4446
Fishing Creek Enterprises
1741 Snyder Corner Rd
Windsor, PA
(717) 246-8735
Bullrun Bait & Tackle: Fax Line
Wrightsville, PA
(717) 252-0466
Trop Gun Shop Inc
709 Cloverleaf Rd
Elizabethtown, PA
(717) 367-5585
Snow Time Inc
100 Boxwood LN
York, PA
(717) 757-1508
Samuel S. Lewis State Park is in southcentral Pennsylvania, York County, and is about 12 miles east of York, Pennsylvania. From the Wrightsville exit of US 30 follow Cool Creek Road south about 1.5-miles to Mt. Pisgah Road and the park.

Susquehannock State Park