SALINE COUNTY STATE FISH WILDLIFE AREA
Saline County State Fish & Wildlife Area, five miles southeast of Equality in southeastern Illinois, was the site of springs and wells that furnished brine for one of the two salt works in the area. Today, although the springs and wells are not visible, the area primarily is a recreational site. The initial acquisition of 524 acres of land was made in 1959 by the state of Illinois and the total acreage now is 1,270 acres, including a beautiful 105-acre lake.
Salt is the theme of the early history in the area around Equality in Gallatin County. One of several counties which were originally part of Gallatin, Saline County takes its name from the salt works. The American Indians made salt here long before the first settlers appeared. In 1803 the Indians ceded their "Great Salt Springs" to the United States by treaty. Congress refused to sell the salt lands in the public domain but it did authorize the Secretary of the Treasury to lease them to individuals for a royalty. The leases required the holder to produce a certain quantity of salt each year or pay a penalty.

Although the northwest ordinance prohibited slavery in this area, special territorial laws and constitutional provision permitted exceptions at these salines. The lessees brought in slaves or indentured servants and used them extensively in manufacturing salt. The census of 1820 for Gallatin County listed 239 slaves or servants.

In 1818, as part of the process of making a new state, congress gave the salines to Illinois but forbade the sale of the land. The state continued to lease the springs and used the revenue to finance part of its operating expenses. Eventually Congress allowed the outright sale of the land. The commercial production of salt made the expense of extracting it from the brine prohibitive.

Glen O. Jones Lake, with a maximum depth of 35 feet and a shoreline of 2.7 miles, is the focal point of the area. The lake was named for a prominent Saline County citizen who served as a state senator in the Illinois General Assembly. Jones also was twice elected state's attorney of Saline County and was a member of various social and fraternal organizations.
There is a large camping area for both tents and trailers. A trailer disposal is available, but electricity is not available. Campers must obtain a camping permit from site personnel when they arrive at the area.
Come back to a simpler time when families played games together in the evenings and sat on the porch talking into the night. Enjoy some southern hospitality while staying in a real Log Cabin or a one-of-a-kind luxurious Tree House
12.6 miles from park*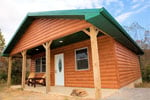 Enjoy a getaway to nearby Southern Illinois with Shawnee National Forest Cabins. Rustic log cabin rentals with modern comforts such as hot tubs, Wifi and satellite TV located near Garden of the God in the Shawnee National Forest.
6.9 miles from park*