RICHARD B RUSSELL STATE PARK
RICHARD B RUSSELL STATE PARK
2650 Russell State Park Rd
Elberton, Georgia   30635
Phone: 706-213-2045
Reservations: 800-864-7275
Located on a 26,500-acre lake, Richard B. Russell State Park offers some of the state?s finest fishing and boating. The park?s campground and fully equipped cottages are located on or near the water?s edge for a relaxing getaway. A nature trail follows the shoreline to one of the oldest steel pin bridges in the area, loops through the adjoining woods and returns to the beach. The park's 18-hole championship golf course, Arrowhead Pointe, was named 2nd Best New Affordable Public Course in America by Golf Digest in 2005. The course features a LEED Certified clubhouse, golf pro and junior/senior citizen discounts. Several Indian sites were excavated near the park in 1980 before the lake was filled, indicating that Paleo-Indians lived in the area more than 10,000 years ago. This area is now called Rucker?s Bottom and lies deep within the waters of Lake Richard B. Russell. All park facilities are designed for wheelchair accessibility, including the swimming beach.
The 6,800-yard course is situated on a peninsula within the state park and the water views are stunning, with 10 of the 18 holes skirting Lake Richard B. Russell. Bob Walker?s design has been compared to the more expensive courses at Lake Oconee because of the challenging layout and the scenic vistas. One exception to that comparison is that there are no visible lakefront houses from any vantage point on the course, consistent with the state park golf course theme of ?no crowds, no houses, no noise.?

Arrowhead Pointe was also named in TravelGolf.com's Top 10 Courses in Georgia, alongside such venerable courses as Augusta National, East Lake, TPC at Sugarloaf and Ocean Forest. And Arrowhead Pointe is the only public course on the list.

Full-Service Golf Shop: Features golf accessories, restaurant and group/individual lessons (with advance appointment).

Hours: 8:00 a.m. to dusk. Hours may vary according to season. Open daily except Christmas Day.

Tee Times: Reservations taken seven days a week - recommended on weekends and holidays.

Overnight Accommodations:17 cottages and 28 campsites

Course Layout:Holes: 18 Yards: 6,788 Rating: 72.5 Slope: 134 Par: 72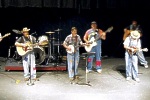 Built in 1986, the four story Pumpkintown Mountain Opry building is a monument to old-world craftsmanship and home of the restaurant and shops. We invite you to enjoy the theater arts of the Pumpkintown Mountain Opry or come relax on the porch and enjoy some ice cream or our great coffee.
52.9 miles from park*