RATTLESNAKE HILL STATE WILDLIFE MANAGEMENT AREA
RATTLESNAKE HILL STATE WILDLIFE MANAGEMENT AREA
The Rattlesnake Hill Wildlife Management Area is a 5,100 acre upland tract, situated approximately eight miles west of Dansville, New York. Roughly two-thirds of the area lies in southern Livingston County, while the remaining third lies in northern Allegany County. The tract was purchased in the 1930's under the Federal Resettlement Administration and is one of several such areas turned over to DEC for development as a wildlife management area.

The area is appropriately named after the Timber Rattlesnake, which may be occasionally found in the more remote sections of the "Hill".

The area offers an interesting blend of upland habitats such as mature woodland, overgrown fields, conifer plantations, old growth apple orchards and open meadows.

The area is inhabited by a variety of game species and is open to public hunting. The white-tailed deer, wild turkey, ruffed grouse, grey squirrel, cottontail rabbit and woodcock are found on the area. An occasional snowshoe hare may be observed adjacent to thick creek bottom brush or conifer plantation habitats.

A number of small marsh units have been developed and provide limited hunting for waterfowl. Some of the area's furbearing species such as mink, beaver and raccoon may be occasionally viewed at these marsh units.

Several of the deeper water impoundments are stocked annually with trout, while those portions of Sugar Greek, Hovey Brook and Canaseraga Creek which are on or adjacent to the management area are known trout waters.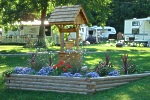 Campgrounds
Holiday Hill Campground, located just 40 miles south of Rochester, in the western Finger Lakes Region of NY, has what youve been looking for. At Holiday Hill you can enjoy great camping and also visit nearby attractions such as Widmer Winery and other attractions nearby.
17.2 miles from park*