PRAIRIE GROVE BATTLEFIELD STATE PARK
PRAIRIE GROVE BATTLEFIELD STATE PARK
506 East Douglas Street
Prairie Grove, Arkansas   72753
Phone:
501-846-2990
Email:

Prairie Grove is recognized nationally as one of America's most intact Civil War battlefields. The park protects the battle site and interprets the Battle of Prairie Grove, where on December 7, 1862, the Confederate Army of the Trans-Mississippi clashed with the Union Army of the Frontier resulting in about 2,700 casualties in a day of fierce fighting.

Walk along the ridge and into the valley where the heaviest fighting took place. See wayside exhibits on the 1-mile Battlefield Trail, or travel the park's 6 1/2-mile Driving Tour.

Exhibits, tours and other programs describe the battle and its local effect. The park hosts Arkansas's largest battle reenactment on the first weekend of December on even-numbered years.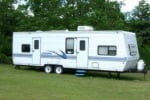 Cottages and Cabins
Camp in this 1 bedroom, 1 bath travel trailer. Parked in a peaceful setting just 10 miles from Devil's Den State Park, 20 miles from U of A Razorback Stadium. See web site for pictures but call for reservations. Phone 479-761-3604
11.1 miles from park*
---
Prairie Grove Battlefield State Park is located near Fayetteville, Siloam Springs and Springdale

Devils Den State Park

Adair State Park
---
BATTLEFIELD TRAIL: Length: 1 mile : Time: 1/2 hour: Difficulty: Easy

Description: A one mile paved trail over the most contested part of the battlefield. Fourteen interpretive panels with photos and quotes from participants in the battle are placed along the trail and tell the story of the battle of Prairie Grove as the trail is walked.


---
---
The park is on U.S. 62 in Prairie Grove.