PILOT MOUNTAIN STATE PARK
PILOT MOUNTAIN STATE PARK
1792 Pilot Knob Park Road
Pinnacle, North Carolina   27043
Phone:
336-325-2355
Reservations:
877-722-6762
Email:

Approach from any direction and see Pilot Mountain rising more than 1,400 feet above the rolling countryside of the upper Piedmont plateau. Dedicated as a National Natural Landmark in 1976, this solitary peak is the centerpiece of Pilot Mountain State Park.

Fun, from relaxation to exhilaration, is easy to find here. Treat yourself to a horseback ride through the woods or challenge the river from raft or canoe. A five-mile woodland corridor joins two sections of the park, each section offering a wealth of opportunities for outdoor fun. The mountain segment, which includes the two pinnacles, contains most of the visitor facilities. The more primitive river section centers around the lazy, meandering Yadkin River.

Park Hours:

November-February, 8 a.m.-6 p.m.

March and October, 8 a.m.-7 p.m.

April, May, September, 8 a.m.-8 p.m.

June-August, 8 a.m.-9 p.m.

Closed Christmas Day

Park Office Hours:

8 a.m.-5 p.m. weekdays

Closed state holidays
Rangers hold regularly scheduled educational and interpretive programs about Pilot Mountain State Park.

To arrange a special exploration of Pilot Mountain State Park for your group or class, contact the park office.

Educational materials about Pilot Mountain State Park have been developed for grades 9-12 and are correlated to North Carolina's competency-based curriculum in science, social studies, mathematics and English/language arts. The Pilot Mountain program introduces students to the "mountains away from the mountains" and the geologic processes that formed them. Accompanying the program is a teacher's booklet and workshop, free of charge to educators.
Like the rocky escarpments in nearby Hanging Rock State Park, Pilot Mountain is a remnant of the ancient Sauratown Mountains. A quartzite monadnock, this rugged mountain rock has survived for millions of years while the elements have eroded surrounding peaks to a rolling plain.

Pilot Mountain is capped by two prominent pinnacles. Big Pinnacle, with walls of bare rock and a rounded top covered by vegetation, rises 1,400 feet above the valley floor, the knob jutting skyward more than 200 feet from its base. Big Pinnacle is connected to Little Pinnacle by a narrow saddle. Visitors have easy access to the top of Little Pinnacle where the view encompasses hundreds of square miles of the Piedmont and the nearby mountains of North Carolina and Virginia.

To the native Saura Indians, the earliest known inhabitants of the region, Pilot Mountain was known as Jomeokee, the "Great Guide" or "Pilot." It guided both Native Americans and early European hunters along a north-south path through the area. The Sauras were driven southward by the Cherokees, who subsequently occupied the area. Further settlement in the area was led by Moravians, but the population remained sparse during colonial times due to frontier turbulence created by an alliance between the Cherokees and the British.

The mountain was mapped in 1751 by Joshua Fry and Peter Jefferson, father of President Thomas Jefferson. Pilot Mountain became North Carolina's 14th state park in 1968, due in large part to the efforts of a group of local citizens. Prior to that time, the mountain was a commercial tourist attraction. The Pilot Mountain Preservation and Park Committee proposed the establishment of Pilot Mountain as a state park in order to protect it and the surrounding area from further commercial development. Working with the conservation-minded owner of the property, Mrs. J.W. Beasley, the group secured options on the land and raised matching funds that made it possible to purchase the land with federal grants. In further support of the park, the committee acquired more than 1,000 acres of land along the Yadkin River that was added to the park in 1970. Additional acreage was later acquired, bringing the park to its present size of 3,703 acres. Today, Pilot Mountain stands as a monument to the desire and concern of a citizenry dedicated to preserving the natural resources of North Carolina.

Learn about rural life in the past by visiting Horne Creek Farm. This state historic site is adjacent to the Yadkin River section of the park. Currently being restored to appear as it did in 1900, the farm is an educational center dedicated to preserving North Carolina's rural heritage. Visitors may experience North Carolina's agricultural past by participating in hands-on programs held on Saturdays and Sundays, April through October. Special tours and educational programs may be arranged throughout the year by calling (336) 325-2298.
Family camping: The lower slopes of Pilot Mountain house the family camping area where 49 campsites for tents and trailers are scattered among oaks and hickories. Each site has a tent pad, table and grill. Drinking water is available throughout the campground, and two modern washhouses with hot showers are located nearby. Hookups are not provided. Firewood may be obtained from park staff; gathering wood in the park is not allowed. Campsites are available on a first-come basis for a modest fee. The maximum number of people who can occupy a site is six.Sites are open March 15 through November 30.

Youth tent camping: On the north side of the Yadkin River, a camping area for youth groups includes tables, a fire circle, drinking water and pit toilets. Here, organized youth groups can enjoy fellowship in a wilderness setting. Reservations are required. Campers should be alert to high water conditions that may cause flooding in the area.

Canoe camping: Hop out of your canoe and onto the Yadkin Islands to spend the night surrounded by water. Two wilderness campsites for canoeists are located on the larger of the two islands. Water and toilets are not provided. Sites are open throughout the year.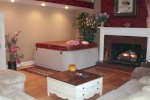 BBs / Inns
Designed with Romance In Mind for your Perfect Romantic Getaway for you your Sweetheart. We are nestled in a wooded landscape, our individual log cabins are designed to provide you with the rustic charm of yesteryear along with the comforts we enjoy today.Honeymoon Suites available as well A six acre lake in walking distance from all cabins suites.
1.2 miles from park*