PENN ROOSEVELT STATE PARK
PENN ROOSEVELT STATE PARK
Huntingdon, Pennsylvania   16652
Phone:
814-667-1800
Toll Free:
888-727-2757
Reservations:
888-727-2757
Email:

This 41-acre park is in an isolated area of the Seven Mountains region known as the Stone Creek Kettle. While this Centre County park is small in size, it is surrounded by an 80,000-acre block of Rothrock State Forest. Penn-Roosevelt is a good base for those seeking low-density recreation on this vast expanse of public land.
At the turn of the 20th century, large railroad logging operations were in progress in the Seven Mountains area with the hillsides and hollows receiving a ?lumberman?s shave? typical of the day. During the summer, Reichley Brothers, a logging company, ran a 39-mile Sunday excursion train carrying up to 210 passengers, mostly from Lewistown. The trip began at Milroy, traveled to Poe Mills, to Thickhead Mountain, through the Stone Creek Kettle, and back to Milroy by way of Laurel Creek. One of the hardest climbs was at Stone Gap, just south of the main park area.

These logging company properties were later sold to the Commonwealth in large tracts, forming the bulk of the Rothrock State Forest. Many of the railroad grades were later used as a base for the state forest roads. Observant visitors can still find some of the grades.

Penn-Roosevelt State Park did not exist until June 5, 1933, when members of the Civilian Conservation Corps (CCC) arrived to set up a work camp during the height of the Great Depression. The camp at Penn-Roosevelt was first known as Camp S-62, Stone Creek Kettle. The CCC of the 1930s was segregated and the camp at Stone Creek Kettle was one of only 12 Black camps in Pennsylvania. Corpsmembers lived at the camp and constructed recreational facilities, including a 195-foot log-crib dam that has since been stone-faced. They also built many of the surrounding forestry roads and trails. Two fireplaces, a unique stone bake oven and other ruins of the camp can still be found.
Camping: rustic sites, tents only

The 18 rustic campsites are for tents only. Some sites are walk-in for more privacy. Drinking water and non-flush toilets are available. Due to the isolated location, Penn-Roosevelt provides an excellent opportunity to get away from noise and electric lights. Park rangers routinely patrol the park and camping fees are paid through a self-registration/payment system. Please keep food and coolers in vehicles to discourage wild animals.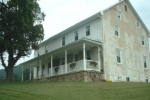 BBs / Inns
Join us for a refreshing stay in an atmosphere of peace and relaxation. Step back in time as you explore our rural heritage among one of Pennsylvania's Amish communities. If your life is complex, get back to the simple basics with a visit to our bed and breakfast.
11.5 miles from park*
Hiking:

Many trails are on nearby state forest land. The Mid State Trail bisects the park and provides cross-country hiking in the Ridge and Valley Region of central Pennsylvania. This 261-mile ridge top route connects US 22 at Water Street, Huntington County and the West Rim Trail in the Tioga State Forest north of Blackwell, Tioga County. This trail passes through a diversity of forested areas from newly regenerated forest stands to mature and old growth timber areas. Scenic vistas dot the trail, which passes through Thickhead Wild Area, and Bear Meadows and Detweiler Run natural areas.

The main trail is marked with orange paint-blazed rectangles - two inches by six inches. Side trails are blue paint-blazed rectangles of the same size. Trail registers are at a number of places along the trail and overnight camping is permitted anywhere along the trail except in the natural areas or within 200 feet of any forest road. Hikers wishing to overnight at Penn-Roosevelt State Park must use the camping area and pay the nightly fee. Hikers overnighting on the trail who wish to leave their vehicle overnight at the park should register with the Greenwood Furnace State Park office and use the main parking lot next to the CCC camp monument.

The Mid State Trail is a rugged and demanding mountaintop trail, and hikers assume their own liability, realizing the difficulty and possible dangers involved.