PALMETTO STATE PARK
PALMETTO STATE PARK
78 Park Road 11 South
Gonzales, Texas   78629
Phone:
830-672-3266
Reservations:
512-389-8900
Email:

Palmetto State Park, 270.3 acres, named for the tropical Dwarf Palmetto plant found there, is located in Gonzales County, northwest of Gonzales and southeast of Luling. The park abuts the San Marcos River and also has a 4-acre oxbow lake. The land was acquired by deeds from private owners and the City of Gonzales in 1934 - 1936 and was opened in 1936. The beautiful stone buildings in the park were constructed by the Civilian Conservation Corps (CCC) during the 1930s.
This is an unusual botanical area that resembles the tropics more than Central Texas. The ranges of eastern and western species merge, resulting in an astounding diversity of plant and animal life. Most notably, a stand of dwarf palmetto (Sabal minor) plants, from which the park gets its name, is found around the park's ephemeral swamp. These palmettos are found in east and southeast Texas, as well as much of the southeastern United States, but only individuals or small clumps are found to the west and north of this park. Wildlife frequently seen in the park includes white-tailed deer, armadillos, squirrels, raccoons, and numerous birds.
Gonzales was established in 1825. It was the capital of Impresario Green DeWitt's Colony and was the farthest west Anglo settlement until the close of the Texas Revolution. In 1831, the Mexican government sent a six-pound cannon to Gonzales as protection against the Indians. This cannon was used in the "Come and Take It" Battle on October 2, 1835, when the first shot of the Texas Revolution was fired. General Sam Houston, while in Gonzales, learned of the defeat of the Alamo from Mrs. Almeron (Susannah) Dickinson. Mrs. Dickinson, her baby, and two servants were the only survivors of the siege. After learning of this event, General Houston gathered troops and ordered Gonzales to be burned. He then began the famous "runaway Scrape," gaining time and mustering troops to eventually take a stand at San Jacinto. There, Santa Anna was defeated and Texas gained its freedom from Mexico. Today, Gonzales has a population of 7,500. It offers an unusually large selection of antique shopping, dining, lodging (bed and breakfasts and motels), recreation (city park with nine-hole golf course, boating, fishing, swimming pool, picnicking, camping, bird watching, and nature study), historic home tours (restored homes dating from the 1880s to the 1920s), and the Gonzales Memorial Museum.

Luling was established in 1874 and served as a gathering point and supply center for cattle drivers along the Chisholm Trail. Cotton ruled the economy until oil was discovered in 1922. By 1924, the oil field was producing 16 million barrels of oil per year. Today, Luling has a population of 5,500. It offers a year-round Farmers' market, antique and collectible shopping, dining (including world famous barbecue), lodging (motels), recreation (city park with nine-hole golf course, swimming pool, and picnicking), the Central Texas Oil Patch Museum, and almost 200 colorfully-decorated pump jacks within the city limits.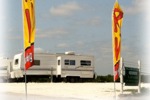 Campgrounds
Centrally located to active areas of the Eagle Ford Shale in Gonzales County. We are on Texas State Highway 97 West near Highway 1116 toward Pilgram, Highway 108 toward Smiley, and Highway 97 West to Nixon
11.3 miles from park*