OTTAWA NATIONAL WILDLIFE REFUGE
OTTAWA NATIONAL WILDLIFE REFUGE
14000 Ohio 2
Oak Harbor, Ohio   43449
(lat:41.6075 lon:-83.2096)

Phone:
(419) 898-0014
Email:

The Ottawa National Wildlife Refuge was established in 1961 to preserve habitat for migrating birds. Staff at the refuge also manage Cedar Point and West Sister Island refuges. The three refuges together now protect approximately 9,000 acres of habitat and some of the last remnants of the "Great Black Swamp" in the heart of the Lake Erie marshes. <P>The Lake Erie Marsh Region has historically been important to fish, migratory waterfowl, songbirds, and shorebirds. Up to 70 percent of the Mississippi Flyway population of black ducks can be found in the Lake Erie marshes during the fall migration. Large numbers of migrating songbirds stop in the area to rest during their spring migration. This amazing wildlife spectacle attracts a large number of visitors from across the country. <P>Ottawa Refuge has been designated as a site of regional significance in the Western Hemisphere Shorebird Reserve Network. In 2002, "Birders World" readers voted the refuge as one of their Top 15 favorite spots to see birds, and the American Bird Conservancy has identified the refuge as an Important Bird Area. <P>
---
Ottawa National Wildlife Refuge is located near Oregon, Port Clinton and Toledo
---
---
---
Zunk's Sportsman Bait & Carry
9636 Jerusalem Rd
Curtice, OH
(419) 836-3713
Butch & Denny's Bait Shop
10408 Corduroy Rd
Curtice, OH
(419) 836-7351
Al Szuch Fishery-Live Bait
10950 Corduroy Rd
Curtice, OH
(419) 836-5264
Happy Hooker Bait Store
9688 W State Route 2
Oak Harbor, OH
(419) 898-9676
A-N-J Bait & Tackle
6797 W Lakeshore Dr
Port Clinton, OH
(419) 635-4436
Fenwick Marina
10195 W State Route 2
Oak Harbor, OH
(419) 898-7009
Maumee Bay General Store
7410 Jerusalem Rd
Oregon, OH
(419) 836-4049
Maumee Bay Resort & Conference Center: Lodge
1750 State Park Rd # 2
Oregon, OH
(419) 836-1466
Campgrounds
Enjoy Southeast Michigan's Best Family Camping experience at our clean, quiet, friendly campground. Jumping Pillow, WiFi, Paddle Boats, Minigolf, Swimming, Bicycling and more
45.8 miles from park*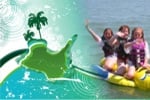 Conference Center
Week long youth camps. Located on the shores of Kelleys Island. Guests will learn to sail, wakeboard, waterski while enjoying the beauty of the Lake Erie island.
26.2 miles from park*
The refuge entrance is located 15 miles east of Toledo/Oregon and 16 miles west of Port Clinton on State Route 2. From I80/90 westbound, take exit 91; follow State Route 19 north to State Route 2; follow State Route 2 west 3 miles to the entrance road on the right. From I80/90 eastbound, take exit 81; follow State Route 105 east to State Route 590; follow State Route 590 north to State Route 2; follow State Route 2 east 2 miles to the entrance road on the left. The half-mile entrance road is located on the north side of State Route 2. <P>