NICKERSON STATE FOREST PARK
Travel the road to the upper campgrounds in Nickerson State Park and you may think for a moment that you have been magically transported to the Berkshire Hills or the piney woods of the Carolinas. Nowhere in sight are the sand dunes and salt marshes usually associated with Cape Cod. Instead, you are surrounded by woods that slope down to the banks of eight crystal clear fresh water ponds. Yet, if you walk or bicycle through the woods, you will find no rivers or streams feeding the ponds. These are ?kettle ponds,? among more than 300 formed as glaciers retreated from the Cape over 10,000 years ago. Completely dependent on groundwater and precipitation, the water level in the ponds fluctuates from season to season and year to year.

Nickerson State Park is closed for camping between mid-October 2004 through mid-April 2005, although day use activities will still be available during the winter. Nearby Shawme-Crowell State Forest will be open for winter camping.

Nickerson's 1900 acres offers more than 420 campsites, including yurt camping, an amphitheater, eight miles of roads, hiking trails, an eight mile bike path that connects to the 25 mile Cape Cod Rail Trail, and ponds stocked year-round with trout. Cape Cod Bay is within walking or bicycling distance. You can swim and canoe at Flax Pond; birdwatch or catch-and-release fish at Higgins Pond, or participate in the many seasonal interpretive and recreational programs offered by park staff.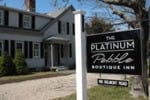 BBs / Inns
An award winning Cape Cod bed and breakfast located in Harwich, Massachusetts. A tranquil hideaway, a short stroll from the sandy beaches of Nantucket Sound, this exquisite Cape Cod Inn is a refreshingly contemporary boutique inn housed within an 1850's sea captain's house.
7.7 miles from park*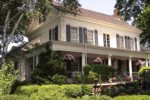 BBs / Inns
a unique and beautiful bed breakfast inn voted One of New England's Best by Fodor's Listed on the National Register of Historic Places. Ideally located on mid Cape Cod in the historic Bass River Village of South Yarmouth Only 90 Minutes From Boston Or Providence
10.6 miles from park*