NEWTON LAKE STATE FISH AND WILDLIFE AREA
Jasper County hosts the largest of three prairie chicken flocks till existing in Illinois. Large flocks were once a common sight in Illinois. The prairie chicken has earned fame through the uniqueness of its mating ritual. Central IL Public Service Company has designated approximately 240 acres of its property as additional prairie chicken sanctuary.
In 1979 the Illinois Department of Natural Resources signed a 25-year lease with Central Illinois Public Service Company which designated the 1,775 acre Newton Lake and 540 acres of shoreline as a day use conservation area. By agreement, recreational activities in the area consist of fishing, picnicking, trail use and deer hunting.

Central Illinois Public Service Company (CIPS) constructed an electric power generating plant in Jasper County southwest of Newton, Illinois. The Newton Plant is the most modern in the network of CIPS generating plants. The plant is fueled by coal and utilizes the latest developments in sulfur dioxide removal systems. It is hoped that this system will enable the plant to continue to burn high sulfur Illinois coal, yet remain with environmental safety standards. When the two generators at the plant operate simultaneously a total generating capacity of approximately 1,180,000 kilowatts is produced. CIPS provides electric service to an estimated 760,000 people in 65 counties over a service area of 20,000 square miles.
You can launch your boat from the two-lane ramp at the south access area. Concessions are available near the lake. The northern ends of the Sand Creek and Laws Creek fingers of the lake are restricted areas. Sailboating and swimming are not permitted. There is a 25 HP limit on boat motors.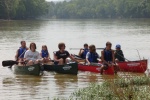 A store that caters to all of your boating, hunting, fishing and outdoor adventure needs. We offer canoe and kayak rentals for one and two day trips on the White River. New G3 brand jon boats as well as a used inventory. NEW White River Cabin on a peaceful river bank setting.
83.3 miles from park*