NEW GLARUS WOODS STATE PARK
NEW GLARUS WOODS STATE PARK
W5446 County Highway NN P.O. Box 805
New Glarus, Wisconsin   53574
Phone:
608-527-2335
Reservations:
608-527-2335
Email:

New Glarus Woods is a 411-acre state park offering camping, hiking, picnicking and snowshoeing. The park also offers direct access to The Sugar River State Trail, a 23-mile, 265-acre, State Park trail surfaced with compressed limestone screenings, for bicycling, hiking, snowmobiling and, in some areas, hunting. Take advantage of the many opportunities for recreation or relaxation in the area.
A program of burning, mowing and seeding is being used to restore three areas to their original prairie condition before European settlement. The projects began with seeding a 20-acre area north of the walk-in sites. The others are a five-acre plot in the woods north of the Group Campground and a 55-acre area along Highway 69 south of County Trunk NN. If you are interested in helping with these restorations as a volunteer, please contact park staff.
A Wisconsin State Park System vehicle admission sticker is required on all motor vehicles stopping in state parks, forests and recreation areas, please visit the
VEHICLE ADMISSION STICKERS
web page.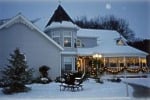 Hotels/Motels
Elegant Victorian-style lodging for quiet or romantic getaways on 120 acre scenic estate with trails just 15 minutes from vibrant Madison, New Glarus Little Switzerland or Mt Horeb Little Norway.
10.3 miles from park*
---
New Glarus Woods State Park is located near Madison, Monroe and Oregon

Blue Mound State Park
---
Fun and educational programs are offered during the week and on weekends. They are held, depending on the subject, at the Chattermark Amphitheater or at the shelterhouse. Check bulletin boards or at the park office for a schedule.

The Junior Ranger and Wisconsin Explorer program is a series of free booklets packed with fun and educational activities designed for kids and their parents to complete to earn a certificate and colorful patch. Ask for the booklets at the Park Office.
Sugar River and Ice Age Trails:

The Sugar River State Trail is a 23-mile long, 265-acre, recreation trail that connects New Glarus Woods with four small communities: New Glarus, Monticello, Albany, and Brodhead.

The Sugar River State Trail from Bump Road to Exeter Crossing Road is part of the Ice Age National Scenic Trail (exit DNR). The Ice Age Trail eventually will wind more than 1,000 miles through Wisconsin, along the terminal edge of the Wisconsin lobe of the last glacier to cover the state. More 500 miles of the Ice Age Trail are open to the public.

Browntown-Cadiz Springs State Recreation Area:

About 25 miles southwest of New Glarus Woods via state highways 69 and 11 is Browntown-Cadiz Springs State Recreation Area, which has two lakes for fishing, canoeing, kayaking, and sailing.
---
---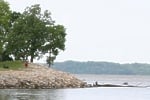 Hotels/Motels
You will feel right at home when you reach Carroll County, our corner of beautiful Northwest Illinois. The magnificent Mississippi River and outdoor spaces will refresh your spirit and touch our soul.
52.3 miles from park*
Hotels/Motels
Located just 30 minutes from Galena and 2 hours from Chicago, Savanna is a great place for renewal and regeneration. We invite you to browse through our web-site and plan your getaway today.
54.9 miles from park*

Blue Mound State Park