MINUTE MAN NATIONAL HISTORICAL PARK
The events of April 19, 1775 were a turning point in the long struggle between Mother England and her American colonies. In a march of protest and petition turned independence and revolution, the fighting on April 19, 1775 would foreshadow the rebellious action of the American colonies to ultimately create a new nation, the United States of America.

Created in 1959, Minute Man National Historical Park preserves and protects the significant historic sites, structures, properties and landscapes associated with the opening battles of the American Revolution. Most importantly, Minute Man interprets the colonial struggle for natural rights and freedoms. Today, Minute Man consists of over 900 acres of land which wind along original segments of the Battle Road for April 19, 1775. In addition to the park's revolutionary significance, Minute Man preserves and interprets the 19th century literary revolution through The Wayside, home of Nathaniel Hawthorne, Louisa May Alcott and Margaret Sidney.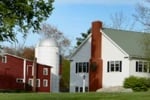 Hotels/Motels
Located on over 100 wooded lakefront acres, overlooking Ashland State Park. Right out our front door you get to truly enjoy the great outdoors. Easy access to trails for hiking, and an area for swimming. Come and enjoy all that Ashland State Park has to offer, and stay at the Warren Center right next door.
17.1 miles from park*