MAUMEE STATE FOREST
The Maumee State Forest Progeny Test Site is an area set aside for the purpose of evaluating genetic selections for superior characteristics. The superior trees will then be grafted into orchards where their seed will be collected and grown in the state tree nurseries. These improved seedlings will then be sold to Ohioans for reforestation purposes. The Maumee State Forest Windbreak Arboretum was established in 1990. This area is set aside for the purpose of evaluating tree and shrub species for their suitability for use in windbreaks. A variety of management and cultural techniques relative to windbreaks is also demonstrated at this site. The Oak Openings Metropark lying northeast of Maumee State Forest has picnic areas and other day-use facilities.
FACILITIES AND ACTIVITIES OVERVIEW
Day-Use
Hiking Trail, miles
5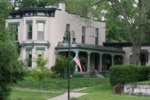 a majestic Victorian manor that sits on the lofty banks of the mighty Maumee River overlooking the historical town of Grand Rapids, Ohio. Sit back and share time inside the gathering rooms, on the front porch swing, or in the enchanted English garden, filled with beautiful perennials, roses of every color and unique plants and flowers.
4.2 miles from park*