LAKE LE-AQUA-NA STATE PARK
LAKE LE-AQUA-NA STATE PARK
8542 North Lake Road
Lena, Illinois   61048
Phone:
815-369-4282
Reservations:
815-369-4282
Email:

Whether you visit for an afternoon or stay a few days, you will leave Lake Le-Aqua-Na State Recreation Area with many happy memories. Located in Stephenson County just west of Route 73 on Lake Road, the park is six miles south of the Illinois-Wisconsin state line and three miles north of Lena.

Highlighted by a 40-acre lake and all the recreational opportunities there, the park also offers multi-use trails, picnic areas, and RV, tent, equestrian and youth group campgrounds.

Developed as part of a statewide plan to provide Illinois citizens with recreational opportunities close to home, the park was started with a land acquisition program in 1948 and was dedicated as a 715-acre State Recreation Area 10 years later.

Lake Le-Aqua-Na?s name is the result of a contest sponsored by the Stephenson County Sportmans Club, one of the park?s many sponsors. The name is a combination of the town of Lena and the Latin word for water, aqua.
Oak, hickory, walnut and other hardwood trees are in abundance, along with large tracts of pine plantation. A good variety of woodland wildflowers, including Dutchmans breeches, bloodroot and bluebells, cover the ground in the spring and early summer. Squirrels, chipmunks, rabbits and other small animals are often seen in the wooded areas, and deer are also frequently sighted.

Observant visitors might also catch a glimpse of a badger. For many years, Lake Le-Aqua-Na was the only State Recreation Area where badgers could be seen. They have recently begun to populate other State Recreation Areas, however, and are becoming less rare.
Three engagements of the Black Hawk War took place within a few miles of the park, and a minor skirmish occurred very near the park in the mid-1800s. A year after the war ended, the first permanent settler in Stephenson County, William Waddams, built a home just west of the current park site, along a trail that was to become the principal east-west route across northern Illinois for stagecoach and early automobile traffic. A small community was established and extended east into the park site.
RV, tent, equestrian and youth groups are all accommodated in the various campgrounds. While there are just a few secluded sites, the majority are open and spacious with adequate shade available on most.

There are a large number of electric sites and water is conveniently located throughout the areas.While the RV campground is open year-round, the shower building with flush toilets and the trailer dump station are operational only from May 1 - Nov. 1.

Reservations are highly recommended for the major holiday weekends, but are usually not necessary at other times during the summer.

The equestrian campground has a shelter, vault toilets and a hand pump for water. Access to the area is on county roads that border the park, not the main park entrance. Contact the park office prior to your equestrian outing, as the campgrounds and trail may be closed due to wet conditions.

Advanced written permission is required to utilize the youth camping area which can accommodate up to 50 youths.

Camping at Lake Le-Aqua-Na is a very relaxed, family-oriented experience. When you arrive you will be issued a permit and some common sense rules that promote a satisfying experience for everyone. The following regulations are useful prior to your departure:

1. Alcoholic beverages are not permitted at any time in the campgrounds.

2. Access to the campground is prohibited after 10 p.m., except for previously registered campers.

3. You must have a camping unit, establish camp and obtain a permit upon arrival. You may not buy additional permits in advance in an attempt to save a campsite for your friends arriving later.

4. While pets are very important to your camping experience, it is your responsibility to leash them at all times, pick up their waste and attend to them at all times. Many campers are not pet owners and their camping experience is greatly diminished if your pet is noisy. Please consider kenneling your pet if it may disturb others.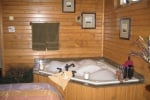 Cottages and Cabins
More than just lodging, it's home to 12 cabins located on 10 wooded acres just minutes from Lake Carroll approximately 30 minutes from beautiful state parks such as Mississippi Palisades, Lake Le-Aqua- Na, White Pines Forest, Rock Cut, Morrison-Rockwood. A romantic whirlpool cabin with fireplace or country kitchenette can accommodate everything from intimate parties to family reunions. Enjoy our friendly atmosphere beside the bonfire or in our 8-person hot tub.
17.4 miles from park*
A small beach, particularly suited to children is open daily from 8 a.m. to 8 p.m. from Memorial Day through Labor Day. There are no lifeguards in attendance, so swimming is at your own risk, and alcohol is strictly prohibited.
Completed in 1956, the lake provides fishing, boating activities and a swimming beach. Whether you bring your own boat or rent one from the concessionaire, you will enjoy the beauty of the 1.4 miles of wooded shoreline the lake offers, even if you do not plan to fish. A launching ramp is located adjacent to the concession stand. Only electric motors are allowed on the lake.
Periodic stockings of walleye, northern pike and channel catfish compliment the lake?s self-sustaining largemouth bass, bluegill, crappie and bullheads. Brush piles and fish cribs are located throughout the lake and provide the perfect habitat for the fish population. To keep the supply abundant, however, regulations governing catch limits and sizes are strictly enforced.

A disabled persons fishing pier is located near the swimming beach so that all visitors to the site can enjoy angling.