LAKE KISSIMMEE STATE PARK
LAKE KISSIMMEE STATE PARK
14248 Camp Mack Road
Lake Wales, Florida   33853
Phone:
863-696-1112
Reservations:
863-696-1112
Email:

Florida's cowboy heritage comes alive with living history demonstrations of the early Florida "cow hunters" in an 1876-era cow camp. White-tailed deer, bald eagles, sandhill cranes, turkeys, and bobcats have been seen in the park, located on the shores of lakes Kissimmee, Tiger, and Rosalie. Visitors enjoy boating, canoeing, and fishing in the picturesque lakes. Nature students can hike over 13 miles of trails to observe and study the abundant plant and animal life. Six miles of trails are open to equestrians. A large, shaded picnic area with pavilions is available. The park has full-facility campsites, as well as a primitive camping facility. The youth camping area can accommodate up to 50 people. The dark skies make stargazing a popular nighttime activity for campers. Located off State Road 60 15 miles east of Lake Wales.
European man arrived in Florida in the 1500?s but his presence was not felt here until the 1800?s. During the third Seminole War Fort Gardiner was built nearby as a temporary fortification. Later the area was widely used for timber and turpentine. The town of Rosalie was built and later abandoned after the turpentine industry pulled out of the area.

During the Civil War the area was used for raising cattle that were shipped to the Confederate Army or traded with Cuba for supplies. After the war, cattle were the main industry and this continues to the present day.

In 1969, the state of Florida purchased 5,030 acres of land from the William Zipprer estate for use as a state park. Lake Kissimmee State Park was opened to the public in 1977. An additional 900 acres were purchased in 1997 and added to the park?s western boundary.
Annual Entrance Passes can be purchased at all park ranger stations and museums. If you require immediate use of your pass, this is the best option. Passes can be purchased during regular business hours 365 days a year. Please call the park in advance to ensure availability. Those who are eligible for discounted or free passes may use this method to receive their pass. Annual Entrance Passes may be purchased online by visiting the
FLORIDA STATE PARKS ANNUALENTRANCE PASSES
web page.
Camping
Water/Electric Sites
yes
Full Facility Camping

Sixty campsites are available with electric and water hookups. No sewage hookups are provided although a dump station is located nearby. The oak hammock in which the camping area is located makes this one of the most beautiful camping areas in the state.

RV Camping

Lake Kissimmee State Park?s camp ground has sites with water, electric, plenty of shade, and a majority of the sites are surrounded by beautiful natural buffers for a little seclusion on your site. Although there are no septic hooks up?s there is a dump station at the camp ground entrance.

Primitive Camping

For those who prefer primitive camping, there are two campsites located on the 13 miles of hiking trails within the park. Everything must be backpacked in including water. There are no facilities available at either of these campsites.

Youth Camping

Lake Kissimmee State Park offers 2 Primitive Youth Camping Sites to Youth groups with each site capable of holding up to 25 people. The sites are located just off the beaten path, under ample shade provided by beautiful live oaks that cover 85% of the camping area. In the Youth Camping area there are cold showers, restrooms, 1 fire pit for each site; surrounded by benches for the fire side chats and ghost stories. The Parking and Unloading area is located less than 200? from the sites for improved access. Reservations can be made at the Ranger Station, up to 11 Months in advance.
Launch your boat from the park and explore the 35,000 acres of Lake Kissimmee and the neighboring lakes and creeks on the Kissimmee Chain of Lakes. Boating activities include wildlife viewing, sight seeing, bass fishing, and pan fishing on some of Florida?s most pristine waterways. The park has an on site boat ramp and marina.

Boat Ramp

Air Boats are not permitted to launch from the park due to limited space and safety concerns in the marina area. If visiting or camping, air boats may be towed into the park on their trailers, providing the prop has been tied to the rigging so it cannot be started. There are a number of private boat ramps with in a few miles of the park that allow air boat launching.
Located on the shores of Lakes Kissimmee, Rosalie and Tiger, the park offers some of the best fishing opportunities in the state. A variety of fish that can be caught include the largemouth bass, crappie, catfish, chain pickerel and bluegill. A boat ramp in the park offers direct access to Lake Kissimmee. For those without boats fishing opportunities from the canal banks, marina and dam offer the same variety of fish. Freshwater fishing in Florida requires a license for those who are 15 years or older. You do not have to have a license to fish with a cane pole as long as you are fishing in the county of your residence.
Tour the waterways within the park and/or along the shores of Lake Kissimmee, Lake Rosalie and Tiger Lake. View some of the incredible birds and wildlife inhabiting the area known as the "headwaters" to the Everglades. Bring your own boat, as there are no rentals in the park.
---
Lake Kissimmee State Park is located near Davenport, Frostproof and Haines City

Allen David Broussard State Park Catfish Creek
---
Playground

For your children's enjoyment our playground facility is conveniently located in the day use area near the picnic pavilion. The playground features 2 regular swings and 2 baby swings, 3 slides, and a set of monkey bars.
Lake Kissimmee State Park has over 6 miles of equestrian trails located on beautiful Buster Island. These trails take you through some of Florida?s most precious natural habitats including Pine Flatwoods, Scrubby Flat Woods and some beautiful Marsh lands. There is equestrian parking just across the cow camp bridge in the hay fields. This is considered a primitive area, so come prepared; there?s no water, bathrooms or facilities on the island. YET. Stay tuned for future equestrian improvements at Lake Kissimmee, a great park with big plans. Please come out and give us your feedback, after all this is your park too.
There is a large picnic area located in an oak hammock near the bottom of the park. Large, sprawling live oak trees provide shade for those interested in picnicking at the park. There are numerous picnic tables and four pavilions available. At the edge of the picnic area is a 40 foot tall observation tower where you will be able to view the upper part of Lake Kissimmee. For further information on the availability and prices of renting the pavilions please call the park office.
The park offers 13 miles of hiking trails which showcase white-tailed deer, bobcat, bald eagles, sandhill cranes, turkeys, and other bird life. The trails take you through pine flatwoods, oak hammocks, by freshwater marshes, and out to Lake Kissimmee. You may take your pick from a ? mile self-guided nature trail, two loop trails, and a spur trail out to the lake. There are two backcountry campsites along the trails available for those who wish to spend the night under the stars.
---
---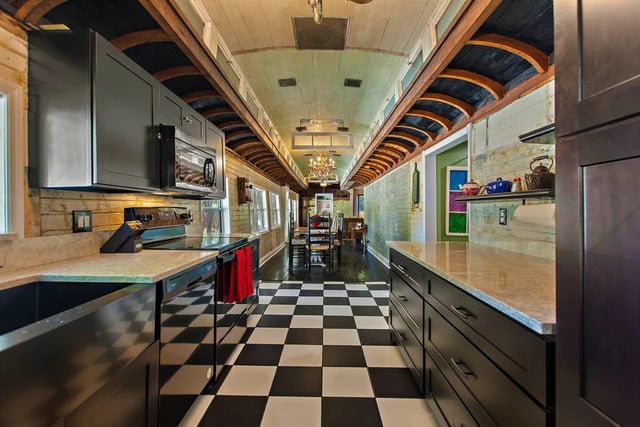 Cottages and Cabins
Like something out of a fairytale, a long time ago someone put two steam passenger train cars from 1892 and created something magical, a house This magical home is one of a kind and an experience you dont want to miss.
77.6 miles from park*
Pets must be confined, leashed (not to exceed six feet in length) or otherwise under the physical control of a person at all times. Tethered pets must not be left unattended for more than 30 minutes. Quiet hours must be observed from 11:00 p.m. - 8:00 a.m. Pet owners must pick up after their pets and properly dispose of all pet droppings in trash receptacles. Florida law requires that pets be vaccinated against rabies. Any pet that is noisy, dangerous, intimidating or destructive will not be allowed to remain in the park. Non-furbearing pets, such as reptiles, birds, or fish must be confined or under the physical control of the owner. Some animals may be prohibited on park property. Failure to abide by these rules may result in the camper being asked to board the pet outside the park or to leave the campground.
Lake Kissimmee State Park is located off S.R. 60, 15 miles east of Lake Wales.

Allen David Broussard State Park Catfish Creek