LAKE KEGONSA STATE PARK
LAKE KEGONSA STATE PARK
2405 Door Creek Road
Stoughton, Wisconsin   53589
Phone:
608-873-9695
Reservations:
608-873-9695
Email:

Lake Kegonsa State Park, south of Wisconsin's state capital, Madison, offers a natural, peaceful atmosphere beside a glacier-hewed lake.

Selecting one of the 80 beautiful campsites nestled among the oaks can be a difficult task. After setting up camp, visitors can hike a trail, enjoy the beach, launch their boat, or have a picnic in the park.

Lake Kegonsa offers swimming, fishing, water-skiing, sailing, and motor boating. The lake covers 3,209 acres and is more than 30 feet deep. Park visitors enjoy the lake's excellent fishing.

The 342-acre park of oak woods, prairie and wetland marsh was established in 1962 and officially opened on August 12, 1966. Today, Lake Kegonsa State Park eagerly awaits its visitors, ready to give them a quality recreational experience.
The 3,209-acre Lake Kegonsa is the most prominent feature in the park.

During the last Ice Age, four distinct, giant glaciers, originating in Canada, invaded what is now the northern United States. The last of these great ice blankets, called the Wisconsin Glacier, overrode much of Wisconsin. Around here, the Wisconsin Glacier slid over the old river valley that many geologists believe was the ?Ancient Wisconsin River.? The glacier slid over these park lands, creating a wide terminal moraine only a few miles south and southwest of Lake Kegonsa. Thus, this park once lay under thick glacial ice.

As the glacier melted and retreated, its meltwaters carried vast amounts of sand, gravel and boulders into the old river valley, partially filling it. The melting ice also dropped huge loads of glacial rock and debris on the park lands.

The old valley, now dammed in places by glacial debris, holds the famous ?4-Lakes? of the Madison area: Lakes Mendota, Monona, Waubesa and Kegonsa. This string of beautiful lakes has existed only during the last 12,000-15,000 years and is perched on glacial debris many feet above the old, buried valley floor. The present-day Yahara River connects the four lakes.How Lake Kegonsa Got Its Name

Early area settlers referred to Lake Kegonsa as ?First Lake? because it was the first of the four Madison lakes ?Kegonsa, Waubesa, Monona and Mendota?they encountered traveling north up the Yahara River.

The name Kegonsa is attributed to the Ho-Chunk (Winnebago) Indians who once lived in this area. Kegonsa means ?Lake of Many Fishes.? Today, Lake Kegonsa is still one of Wisconsin?s most productive fishing lakes.
A Wisconsin State Park System vehicle admission sticker is required on all motor vehicles stopping in state parks, forests and recreation areas, please visit the
VEHICLE ADMISSION STICKERS
web page.
The campground has 80 sites, of which 68 are reservable. Sites 1-9 are partially wooded. The rest of the sites are heavily wooded. Sites will accommodate tents, pop-ups, trailers and recreational vehicles (RVs). Only one wheeled camping unit is allowed per site. There are two electric campsites in the park for campers with disabilities.

Drinking water is available at several locations throughout the campground. Flush toilets and showers are at the entrance to the campground and may be closed in early May and late October, depending on weather conditions. Three pit toilets are located throughout the campground.

The group camp has three sites which can accommodate as many as 20 campers per site. A pit toilet and water fountain are in the camp. Group Site B has a picnic shelter on the site. A common area with a sand volleyball court and horseshoe pit as well as a ball field are located nearby. Parking is limited to six cars at each site, but an overflow parking area is available near the beach. The group campsites are for tents only; no RVs, trailers, or pop-ups are allowed.

Family and group campsite reservations are accepted and highly recommended. Both campgrounds will be full every weekend between Memorial Day and Labor Day. Reservations are accepted by phone at (888) WI-PARKS ((888) 947-2757). For immediate confirmation of your reservation, please have a Visa or Mastercard ready.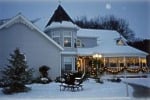 Hotels/Motels
Elegant Victorian-style lodging for quiet or romantic getaways on 120 acre scenic estate with trails just 15 minutes from vibrant Madison, New Glarus Little Switzerland or Mt Horeb Little Norway.
14.6 miles from park*