LAKE GRIFFIN STATE PARK
Located within an hour of central Florida attractions and theme parks, this park is home to one of the state's largest live oak trees. A short trail near the park entrance takes visitors to the mammoth oak tree. A canal connects the park to Lake Griffin, the eighth largest lake in Florida, where visitors can enjoy boating and canoeing, as well as fishing. Anglers will find plenty of largemouth bass, bluegill, speckled perch, and catfish. Visitors can observe the park's wildlife while picnicking or strolling along the half-mile nature trail. A shady, full-facility campground beckons travelers to spend the night or an entire vacation here. Located three miles north of Leesburg and 30 miles south of Ocala.
Wildlife viewing is possible at this park. Cormorants, anhingas, alligators, herrons, soft shelled turtles, and ospreys are frequently observed along the canal that meanders through the Dead River marsh.
Annual Entrance Passes can be purchased at all park ranger stations and museums. If you require immediate use of your pass, this is the best option. Passes can be purchased during regular business hours 365 days a year. Please call the park in advance to ensure availability. Those who are eligible for discounted or free passes may use this method to receive their pass. Annual Entrance Passes may be purchased online by visiting the
FLORIDA STATE PARKS ANNUALENTRANCE PASSES
web page.
Camping
Water/Electric Sites
yes
Camp in the park's forty (40) site campground. Campsites accommodate tents, trailers or motorized campers, with some sites accommodating rigs up to 40' long. Each site includes a picnic table and campfire grill. Wood (kindling) for campfires (when available) is provided at no charge. All sites are available with water and electric and there is a dump station for sewage disposal. Some sites have 50 amp electrical service. Bathrooms have hot showers with hot water. Reservations are taken by phone up to 11 months in advance.Lake Griffin also offers the Bedtime Story Camper Lending Library of picture books for campers aged four to nine. From raccoons to insects, the Lending Library is a fun way to enhance your child's experience in the Real Florida. For a quiet afternoon or bedtime, share a story with your child to help explain the sights and sounds of Lake Griffin. Ask the Ranger Station about how to check out a book.

RV Camping

All of the park's campsites will accommodate RV's and have a minimum of 30 amp electrical service. Sites 2, 16, 17, 18, 19, 37, and 38 have 50 amp electrical service. Sites 35, 37, and 38 are pull through sites. No campsites have sewage connections but a dump station is available for registered campers.
A boat ramp located in the park provides access to the Dead River, which meanders through a basin swamp to Lake Griffin and the Ocklawaha River. A series of locks and canals connects Lake Griffin to the Harris Chain of Lakes. Water levels fluctuate depending on weather conditions, call the park for a local report. There is a 250-foot long concrete dock for boaters entering the park via the Dead River from Lake Griffin; a docking fee is required.

Boat Ramp

The park has an improved doublewide concrete boat ramp that will accommodate trailers up to 25 feet. Anglers wishing to use the dock to launch boats earlier than 8:00 a.m. may purchase an annual recreational permit for 24-hour access. Contact the park for details. Average depth of the boat basin is approximately 3 to 4 feet.
Canoe rentals and a canoe launch are available at Lake Griffin State Park. Your scenic canoe ride will provide you access to the Dead River and the southwest shoreline of Lake Griffin.
Bass, crappie, and catfish are just some of the fish that are waiting for the chance to snap up your bait on Lake Griffin. The lake is located approximately one mile from the park?s boat ramp via a canal and tributary. Some of the lake?s best fishing is between the boat ramp and the lake. A fishing license is required for everyone except children 16 years old and under, and Florida residents 65 years of age and older. Because Lake Griffin is a fish management area, the cane pole rule does not apply. This includes all waters in the park.
---
Lake Griffin State Park is located near Belleview, Bushnell and Clermont
---
Playground

For your children?s enjoyment a new modern playground facility is conveniently located in the day use are near the picnic pavilion overlooking the boat basin. For your child?s safety please insure that adult supervision is provided at all times.

Lake Griffin State Park campground has a full facility bath house which includes 2 ADA accessible restrooms, and two ADA accessible showers. The bathhouse area also offers coin operated washers and dryers. Our day use area offers 2 ADA accessible restrooms.

One 10 table open air picnic pavilion is reservable for your event or family reunion. The shelter is near restroom facilities and a childrens plaground. Water and electricity are included in the fee. Three waist high family sized grills, volleyball court, and two horseshoe pits are nearby.
A large picnic area provides a scenic view of the waters near the boat ramp. One ten table covered picnic shelter is available on a first come, first served basis or it can be rented by contacting the Park Office. The shelter has water, electric, and family sized barbecue grills. A volleyball net and two horseshoe pits are located nearby. Equipment is available upon request. Reservations for the picnic shelter can be made up to 11 months in advance by phone.
A one half mile long nature trail traverses a portion of the basin swamp and leads the user to the Mammoth Oak Tree near the entrance of the park.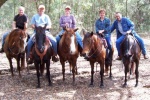 Horseback Riding
We offer trail rides to singles, couples, or groups. All rides are guided to assure safety for rider and horse. There are trails through the Florida Horse Park and into the Cross Florida Greenway Trail system. Most trails are shaded and quite scenic.
20 miles from park*
---
---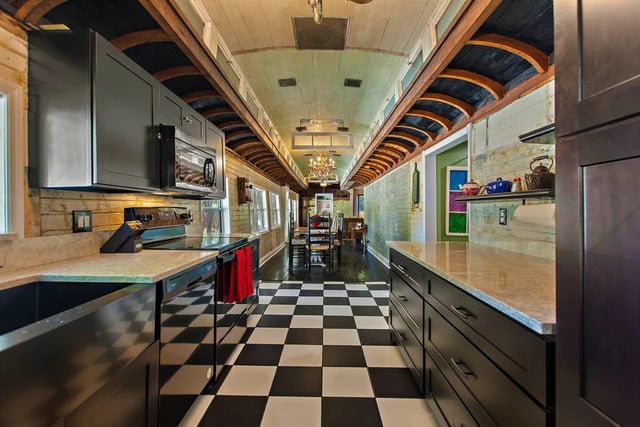 Cottages and Cabins
Like something out of a fairytale, a long time ago someone put two steam passenger train cars from 1892 and created something magical, a house This magical home is one of a kind and an experience you dont want to miss.
58.8 miles from park*
Pets are permitted in day-use areas of Lake Griffin State Park. They must be kept on a handheld leash that is no longer than six feet and must be well behaved at all times. Pet owners are required to pick up after their pets and properly dispose of all pet droppings in trash receptacles. Camping with pets is also permitted.

Pet camping is available at Lake Griffin State Park. Pets must be confined, leashed (not to exceed six feet in length) or otherwise under the physical control of a person at all times. Tethered pets must not be left unattended for more than 30 minutes. Quiet hours must be observed from 11:00 p.m.--8:00 a.m. Pet owners must pick up after their pets and properly dispose of all pet droppings in trash receptacles. Florida law requires that pets be vaccinated against rabies. Any pet that is noisy, dangerous, intimidating or destructive will not be allowed to remain in the park. Non-furbearing pets, such as reptiles, birds, or fish must be confined or under the physical control of the owner. Some animals may be prohibited on park property. Failure to abide by these rules may result in the camper being asked to board the pet outside the park or to leave the campground.
Lake Griffin State Park is located 2 miles north of Leesburg and 30 miles south of Ocala. The park is also within an hour of central Florida?s major attractions.