BEAVERS BEND STATE PARK - HOCHATOWN AREA
BEAVERS BEND STATE PARK - HOCHATOWN AREA
4350 Oklahoma 259A
Broken Bow, Oklahoma   74728
(lat:34.1707 lon:-94.7303)

Phone:
580-494-6300
Hochatown State Park wraps around the shore of crystal clear Broken Bow Lake. Camp lakeside, watch the sunrise over the lake from the balcony of your room at Lakeview Lodge, or enjoy a round of golf at Cedar Creek Golf Course. Hochatown State Park, a beautiful part of the Beavers Bend Resort Park experience!



Originally part of Beavers Bend State Park, this adjacent state park is located on the shores of Broken Bow Lake and offers the 40 room Lakeview Lodge, Cedar Creek Golf Course and RV campsites in the Stevens Gap, Carson Creek and Cedar Creek areas. Recreation amenities and facilities include a fish cleaning station, group shelters and picnic sites, full and semi-modern RV campsites, primitive sites, comfort stations, sanitary waste stations, lighted boat ramps, swimming beach, playgrounds, backpacking and hiking trails, and an 18 hole golf course with pro shop, practice range and putting green. Other lodging choices at Beavers Bend State Park include 47 cabins (some with river views), and two group camps. Recreation opportunities at Beavers Bend State Park include biking trails, tennis and volleyball, trout fishing, nature center activities, river float trips, miniature golf, paddleboats, bumper boats and canoeing, horseback riding, hayrides and train rides. An amphitheatre, gift shop, grocery, restaurant and the Forest Heritage Center on site also. In June, Beavers Bend State Park hosts the Owa Chito Festival of the Forest, and in November, the Beavers Bend Folk Festival. Eagle watches are held every November-February, and from November-April, fly fishing clinics. Kitchenettes and pets allowed in cabins only; free breakfast and suites available for lodge guests. Televisions available in lodge guest rooms. For lodge reservations or information, call 580-494-6179 or toll free 800-435-5514. Rates from $65-100+.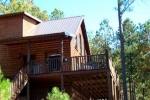 Cottages and Cabins
Privately owned luxury Oklahoma cabins just north of Broken Bow. Enjoy mountain top views and a private fishing pong. Our cabins offer seclusion and privacy, the dense timber of the forest surrounds each cabin giving you the authentic feel of the Kiamichi wilderness.
4.3 miles from park*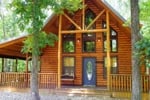 Cottages and Cabins
Offering luxury log cabin lodging near Beavers Bend Resort Park and Broken Bow Lake in Broken Bow, Oklahoma, the areas top vacation playground. The perfect destination for summer vacations and weekend getaways and our cabins offer all the luxuries you would find at a top flight resort..
9.5 miles from park*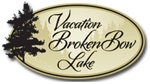 Cottages and Cabins
Find recreation and repose for the whole family, close to home, on Broken Bow Lake. That carefree, we're-on-vacation feeling is waiting for you in a beautiful cabin on Broken Bow Lake. Cabins sleep 2-14 people and each is furnished with thoughtful good taste.
5 miles from park*