GENEVA-ON-THE-LAKE STATE PARK
GENEVA-ON-THE-LAKE STATE PARK
4499 Padanarum Rd
Geneva, Ohio   44041-8172
(lat:41.8518 lon:-80.9697)

Phone:
(440) 466-8400
Reservations:
866-644-6727
Geneva State Park's cottage replacement is underway. Twelve cottages and an enclosed group sheltherhouse will be available late this summer. Located on Ohio's northeastern shoreline, Geneva State Park reflects the character and charisma of Lake Erie. The shimmering expanse of the lake lures vacationers who enjoy fishing and boating. Swimmers rejoice in the beautiful sand beach while nature enthusiasts retreat to the park's freshwater marshes and estuaries associated with the lake.
Geneva State Park exhibits graphic evidence of the dynamic effects Lake Erie has on our changing landscape. The lake has been a dominant force shaping Ohio's natural and cultural development for thousands of years.

The lake's beginning can be traced to the glacial era of Ohio's geologic history when the state was covered by ice over a mile thick. During the Pleistocene (Ice Age), continental glaciers advanced and receded from Ohio at least four times. The scouring action of this ice sheet created the Lake Erie Basin which slowly filled as the ice melted northward to Canada. Initially, the newly formed lake drained to the southwest into the Mississippi River. When the glacier retreated from near present-day Buffalo, New York, a new outlet was exposed via the Niagara River. A flood of water escaped, draining the shallow western basin and much of the central basin. Twelve-thousand years ago, this outlet was 100 feet lower than it is today due to the great weight of the mile-thick ice depressing the land surface. The rebounding of this bedrock is reflected in the present lake level.

Geneva offers the visitor a natural beach, several areas of freshwater marsh and beautiful mature woodlots. The middle and western beach areas contain plants that are rare in Ohio but characteristic of the Atlantic coast. Sea rocket, seaside spurge, beach pea and silverweed can be found on the Geneva beaches. Marshes located at the mouth of Cowles Creek, No Name Creek and Wheeler Creek contain swamp smartweed, leafy sedge and submerged aquatic vegetation.
Geneva State Park is situated along the Lake Erie shoreline. Erie, meaning wildcat or "it is long-tailed," is derived from the tribal name of Indians who inhabited the area until 1655.

The lake was a principal avenue of transportation for Indians and frontiersmen alike. Overlooked by French settlers traveling west because of a shorter overland route linking Lake Ontario and the western Great Lakes, French trappers eventually established trade routes on Lake Erie in the mid 1600s. Since that time, the lake has figured prominently in Ohio's history and growth.

By the mid 1800s, the state's canal system was open and goods could be shipped from Ohio's rural farms to populous eastern cities using well-developed inland canals. Ports were established at Toledo and Cleveland to accommodate the growing shipping industry. Freight from these ports was shipped east across the lake to New York.

Today, the Saint Lawrence Seaway enables the Midwest to trade directly with many nations. Freighters of international registry carry corn, wheat, soybeans and other commodities from our region's diverse industries to many foreign markets. New trade avenues opened on Lake Erie contribute to the prosperity of Ohio's strong agricultural and industrial economies.

Acquisition of land to create the park began in 1964 with the purchase of Chestnut Grove. Land acquisitions continued through 1972. The last parcels added were the cottage and campground areas.
Ohio does not have an annual pass and does not charge entrance fees to state parks.
Boating
Boating Limits
Unlimited HP
Camping
Electric Sites, #
93
Winter
Cross-Country Skiing
yes
Accommodations
Lodge Rooms, #
109
A full facility campground with electricity, showers and flush toilets offers shaded sites in a hardwood forest and sunny sites in open meadows. Three spacious, fully equipped Rent-A-RV units can be reserved for daily or weekly stays during the summer months. Pet camping is available at designated sites.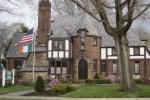 BBs / Inns
Magnificent 16-room French Tudor. You will be charmed by its unique castle-like architecture and the Irish hospitality. Four guest rooms, each with private bath. 30 mi E of Cleveland.
16.7 miles from park*
A 300-foot swimming beach adorns the shoreline of Lake Erie. A beach house with restrooms and changing rooms also offers a food concession. The entire length of the park overlooks Lake Erie for approximately two miles with access to the lake provided at various points along the lakefront. The east breakwall of the marina is capped with a sidewalk, providing park visitors with a scenic panorama of the Lake Erie shoreline.
Lake Erie provides unlimited opportunities for boaters. A six-lane boat ramp provides easy access to Lake Erie's central basin. Geneva State Park Marina, completed in 1989, is a focal point of the park's facilities. The concession area which supplies gasoline, boating essentials and bait, also has restrooms and a canteen. Catches of walleye, Coho salmon and yellow perch are common. The marina features 383 docks and also rents bicycles and wave runners.