FORT COOPER STATE PARK
The sparkling waters of Lake Holathlikaha were a welcome sight to sick and wounded soldiers during the Second Seminole War. In 1836, the First Georgia Battalion of Volunteers built a stockade for the soldiers resting here, enabling the Volunteers to hold their own through several skirmishes with the Seminole Indians. The park?s diverse natural areas provide a refuge for many plants and animals, including threatened and endangered species. Fishing in Lake Holathlikaha is a popular activity; swimming is available only when the lake level is high enough. Private boats are not allowed on the lake, but paddleboat and canoe rentals are available. Nearly five miles of self-guided trails offer some of the best bird and wildlife viewing in Citrus County. Park visitors also can enjoy the picnic facilities, a recreation hall, and primitive group campground. Located off U.S. 41 on South Old Floral City Road, two miles south of Inverness.
Wildlife at Fort Cooper State Park is abundant. Sightings of deer, turkey, opossum, bobcat, birds, and many other species is very common.
The park is named after Major Mark Anthony Cooper.

In April 1836, during the Second Seminole War, Major Cooper was ordered to remain behind to protect the sick and wounded as General Winfield Scott marched south to present day Tampa. Major Cooper was left in the command of five companies of the First Georgia Battalion of Volunteers and a small artillery company. A field fortification was built on the western bluff of Lake Holathlikaha. Major Cooper was to hold this position as he waited for reinforcements.

Seminole War Chief Osceola and his Indian warriors encamped themselves across the lake from Fort Cooper. There were several skirmishes with the Seminoles, but the volunteers held their own. On April 18, General Scott returned with supplies and reinforcements, leading the men of Fort Cooper from their frontier sanctuary and into new battles.

The fort site was well chosen. The western bluff offered the strategic advantage of being nestled in the fringe of a hardwood hammock, while having access to a wagon road that was under the cover of longleaf yellow pine.
Annual Entrance Passes can be purchased at all park ranger stations and museums. If you require immediate use of your pass, this is the best option. Passes can be purchased during regular business hours 365 days a year. Please call the park in advance to ensure availability. Those who are eligible for discounted or free passes may use this method to receive their pass. Annual Entrance Passes may be purchased online by visiting the
FLORIDA STATE PARKS ANNUALENTRANCE PASSES
web page.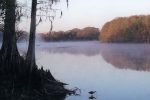 Campgrounds
Wynnhaven Riverside is located on County Road 48 in the small town of Bushnell, Florida. Whether you are visiting Florida and want sun or prefer to camp in the shade of Florida's grand oak trees, we have units available for both.
15.1 miles from park*
With higher water levels, Lake Holathlikaha offers excellent fresh water swimming. Contact the park for lake conditions.
Enjoy Lake Holathilikaha and all it's natural beauty by canoe or paddle boat. Canoes and paddleboats are available for rent at the park. Private boats are not allowed.
Lake Holathlikaha offers fresh water fishing. While private boats are not permitted, canoes and paddleboats may be rented. Contact the park for rental details. A fishing license is required.