FARNY STATE PARK
FARNY STATE PARK
1304 Sloatsburg Road
Rockaway, New Jersey   07866
(lat:41.0025 lon:-74.4467)

Phone:
973-962-7031
Email:

This forested wilderness connects watershed lands and is crossed by an old logging road. Streams, mixed oak-hardwood forest and swamps comprise the park. Trail entry is through the Farny Natural Area. Split Rock Reservoir is adjacent to the park.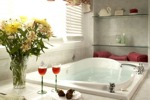 BBs / Inns
Nestled in the beautiful Skylands Region of New Jersey, the house now known as The Whistling Swan Inn was built in 1905 by Justice of the Peace, Daniel Best, for his wife, Sarah. Come visit Northwest NJ's finest Victorian Inn Voted Top Ten BB in US by Inn Traveler Magazine
14.4 miles from park*
---
Farny State Park is located near Belleville, Bloomfield and Boonton
---
Farny Natural Area (589 acres)

The natural area lies adjacent to Splitrock Reservoir and supports a mature mixed oak hardwood forest characteristic of the Highlands physiographic province. Tall red, white and black oaks dominate the forest canopy, which also serves as habitat for the endangered red-shouldered hawk and threatened barred owl. Numerous trails cross the natural area.
---
---
Take Route 287 to Route 23 to Green Pond Road in Newfoundland. Make a left turn onto Upper Hibernia Road. Make a left onto Split Rock Road. Follow Split Rock Road across the Splitrock Reservoir Dam. The parking area is on the left.