DONNELLEY STATE FISH AND WILDLIFE AREA
DONNELLEY STATE FISH AND WILDLIFE AREA
1001 W. 4th St. P.O. Box 52
DePue, Illinois   61322
Phone:
815-447-2353
Email:

The Donnelley/DePue State Fish and Wildlife Areas complex is managed primarily for migratory waterfowl. Frank C. Bellrose, world-renown waterfowl expert, has designated this Great Bend as the entry point to the lower Illinois River valley, an important North American waterfowl migration corridor.

The Donnelley/DePue complex is home to a $1 million State Duck Stamp Project, which was funded through State Duck Stamp dollars, State of Illinois Capital Development Board funds and Ducks Unlimited M.A.R.S.H. contributions. This project greatly increases the complex's ability to provide significant sanctuary with dependable food resources as well as increased services to the high hunting demands of northern Illinois.

The state wildlife areas established here contain a variety of wetland habitats that have always been critical to migratory waterfowl. Consequently, much of the 3,015-acre complex is managed for waterfowl feeding, nesting, resting, harvesting and viewing.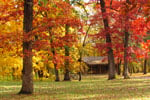 Cottages and Cabins
Within a 10 minute drive from Starved Rock and even closer to Matthiessen State Parks you will find a gorgeous, tranquil property with spacious cabins on 50 wooded acres. All with full kitchens and outdoor fire pits. 3 dog friendly.
15.7 miles from park*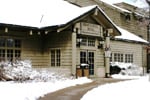 Hotels/Motels
Relax in the rustic beauty and comfort of Starved Rock Lodge, Cabins and Starved Rock Inn. The historic Lodge has 69 guest rooms, which include three bay-window rooms, plus cabins nestled in the woods. Fireplaces can be found in four of the eight sunset cabins near the pool area...
17.7 miles from park*