DONNELLEY/DEPUE STATE PARK
DONNELLEY/DEPUE STATE PARK
1001 W. 4th St.
DePue, Illinois   61322
Phone:
815-447-2353
Email:

The Donnelley/DePue State Fish and Wildlife Areas complex is managed primarily for migratory waterfowl. Frank C. Bellrose, world-renown waterfowl expert, has designated this Great Bend as the entry point to the lower Illinois River valley, an important North American waterfowl migration corridor.

The Donnelley/DePue complex is home to a $1 million State Duck Stamp Project, which was funded through State Duck Stamp dollars, State of Illinois Capital Development Board funds and Ducks Unlimited M.A.R.S.H. contributions. This project greatly increases the complex's ability to provide significant sanctuary with dependable food resources as well as increased services to the high hunting demands of northern Illinois.

The state wildlife areas established here contain a variety of wetland habitats that have always been critical to migratory waterfowl. Consequently, much of the 3,015-acre complex is managed for waterfowl feeding, nesting, resting, harvesting and viewing.
In 1982, Windblown Bottoms Duck Club, containing Coleman Lake, came under state management through the gifts and efforts of Gaylord and Dorothy Donnelley.

Located in Putnam County, 2 miles north of Hennepin on Putnam County Highway 1, Donnelley Wildlife Area is open to the public during waterfowl season and open to school and study groups by appointment. Most of the year it is managed primarily for wildlife needs, and is therefore closed to public use.

Depue State Fish Wildlife Area:

Lake DePue and Spring Lake in Bureau County have rich histories of commercial hunting and fishing, attesting to the wildlife bounty of the area.

The DePue Rod and Gun Club was organized in the early 1900s, and it was not long before the hunting reputation of the area attracted members from around Illinois. When the state acquired the property in 1970, the clubhouse gun racks still carried well-known names of some past governors and influential businessmen.

Over the years the state has added several properties, bringing the backwater lakes and wetlands to 2,350 acres available for waterfowl needs and water-based recreation. The village of DePue offers access to Lake DePue. DePue and Spring lakes are accessible from the Illinois River, depending on the river levels.

Hiking, photography and nature study attract visitors to nearby Miller-Anderson Woods Nature Preserve.

Two of the state areas in Putnam County are managed by the Putnam County Conservation District. Hiking and equestrian trails are available at Fox Run, while George S. Memorial Park is restricted to nature study.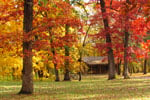 Cottages and Cabins
Within a 10 minute drive from Starved Rock and even closer to Matthiessen State Parks you will find a gorgeous, tranquil property with spacious cabins on 50 wooded acres. All with full kitchens and outdoor fire pits. 3 dog friendly.
15.7 miles from park*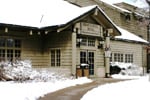 Hotels/Motels
Relax in the rustic beauty and comfort of Starved Rock Lodge, Cabins and Starved Rock Inn. The historic Lodge has 69 guest rooms, which include three bay-window rooms, plus cabins nestled in the woods. Fireplaces can be found in four of the eight sunset cabins near the pool area...
16.6 miles from park*