CUTTS ISLAND STATE PARK
Cutts Island is a two-acre marine park situated on Carr Inlet. During low tide, the island has a very nice sand beach. The island features clay cliffs that allow visitors to walk to the top of the island and enjoy the view. The island is covered with various vegetation, and visitors need to be aware of poison oak. During seal pup season, pups will rest on the sandy beach during low tide. Visitors should keep a safe distance away from seal pups.

More about park hours Check-in time is 2:30 p.m., and check-out time is 1 p.m.Quiet hours are from 10 p.m. to 6:30 a.m.Engine-driven electric generators may be operated only between the hours of 8 a.m. and 9 p.m.Length of stay: You may stay up to ten consecutive days in any one park during the summer; the stay limit is extended to 20 days between Oct. 1 and March 31.
Scuba diving is permitted, and there is an underwater park located half-mile south of the park, off the beach of Kopachuck State Park.

Boating: The nearest pumpout is located south of the park at Penrose State Park.Moorage buoys: 8 buoys available. Moorage fees are charged year round for mooring at docks, floats and buoys from 1 p.m. to 8 a.m.

Warning: there is a natural spit on the north side of the island. Boaters should be careful as the water can get shallow in this area.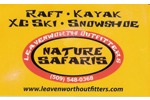 We want to share the nature and adventure of river rafting, kayaking, cross country skiing and snoeshoeing in the beautiful Cascade Mountains of Washington State with our honored guests.
88.2 miles from park*