BUTLER-TURPIN STATE HISTORIC HOUSE
With a commanding view of the Ohio River Valley the restored home built in 1859, in the Greek Revival style, displays military documents, furniture and objects original to the Butler family. The house, built of native masonry construction, is a traditional four over four with center hallways, retaining nearly all of its original features. Plain and fancy describes this fine old country home with its simplistic faade but grand interior details.

Hours of Operation

Park Grounds
Open all year.

Museum/Gift Shop
Open November 1 - March 31 by appt only
Tour Times

1pm, 2pm, and 3pm

Tours are by appointment, and can be made by emailing infofriendsofbutler-carrollton.com, or by calling 502-682-0256

Tour Cost
Adults - $5
18 and under - $3
Under 6yr - free
In 1859, just before the Civil War, the second generation Butler home was built on the family farm, known today as the Butler-Turpin State Historic House. It was the home to Percivals oldest son, Major Thomas Langford Butler, known for his military service prior to and during the War of 1812. A house museum today, it contains furniture, objects, and documents that give a unique glimpse into the lives of family in pursuit of freedom.

Built in the Greek Revival style, it was home to Thomas, his daughter Mary Ellen, his son-in-law Philip Turpin, his grandchildren, and the slaves. Although the names of these slaves are not known, what is known is that based on the ages and gender of these men, women, and children it appeared to be a family of three generations.

Thomas Langford Butlers direct promotions document signed by sitting President James Madison, dated 1809, hangs in his bedchamber. This document exemplifies the military accomplishments of this man who is known for sounding the first call at the Battle of New Orleans as aide to Andrew Jackson during the War of 1812.

Standing on a knoll tucked away on the west side of the park, with a commanding view of the Kentucky River Valley, is the house that pays homage to generations of the Butler family. The home retains many of its original features, which includes the woodwork, the fireplace mantels, the staircases, and the wood floors in the upstairs hall and bedrooms.

With the historic house as the main attraction, the park opened to the public as Butler Memorial Park in 1931. Over the next few years, along with an extensive restoration of the historic house, known then as the Butler Mansion, the Civilian Conservation Corps built the roads, the shelter houses, the ranger stations, the cottages, and recreational trails. After a complete restoration the historic house opened to the public in 1933 interpreting the legacy of the Butler family, as it continues today.

The house received few changes until 1990 when it underwent both an interior and exterior renovation. Since that time, improvements have continued. The collection has grown in both interpretive and original family pieces. Historic reproduction carpets, textiles, and wallpapers are now an integral part of the interior. In 2009, the park received a lost portrait of General William Orlando Butler, the man for whom General Butler State Resort Park is named. The original portrait hangs in the parlor keeping company with other family portraits in the home that once belonged to his older brother Thomas. Together they bring to life the story of the Butler family and their fight to win freedom for all.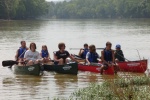 A store that caters to all of your boating, hunting, fishing and outdoor adventure needs. We offer canoe and kayak rentals for one and two day trips on the White River. New G3 brand jon boats as well as a used inventory. NEW White River Cabin on a peaceful river bank setting.
88.6 miles from park*