BACKBONE STATE PARK
BACKBONE STATE PARK
347 129th Street
Dundee, Iowa   52038
Phone:
563-924-2000
Reservations:
877-427-2757
Email:

There are 125 camp sites located in two campgrounds. The South Lake Campground contains 49 non-electric sites, 49 electric sites, 2 shower buildings, a playground and a dump station. The Six Pine Campground, near the west entrance of the park, contains 27 non-electric sites and provides pit latrines. Starting February 13, 2006 advance campsite reservations can be booked through the park reservation system. Half of the campsites are still available for self-registration on a first-come, first-serve basis.
The modern two-bedroom cabins and renovated one-bedroom cabins are available and are equipped with heating and air conditioning. The two-bedroom cabins are available year round. The one-bedroom style cabins are available April through October. Renters must provide their own bedding and dinnerware. The cabins can be reserved for a fee through the Internet at www.reserveiaparks.com or by calling toll-free 1-877-IAPARKS.
Trout Fishing:

Backbone is well known for trout fishing in its cold, clear, quick-flowing stream. Richmond Springs, the source that feeds the stream, pumps out over 2,000 gallons per minute and is located near the north end of the park. Anglers can explore the stream through a variety of shady and easy accessible trails, portions of which are paved.
---
---
Backbone is a beautiful place for a family picnic. Several open shelters and an auditorium may be reserved for a fee through the park office.

A stone lodge overlooking the lake may be rented through the park concessionaire at 563/933-2273. Constructed by the Civilian Conservation Corps, it is very popular for family reunions, weddings and other large gatherings.
Climbers and rappellers will find many challenging cliffs of rugged dolomite limestone throughout the park. The most popular rock escarpments to climb are located near the Backbone Trail. Climbers and rappellers must register at the park office.

Backbone State Park was dedicated in 1920. It was Iowa's first state park and remains one of the most significant. Backbone is named for its narrow and steep ridge of bedrock carved by a loop of the Maquoketa River. Folklore named this high ridge of rock the "Devil's Backbone". Nearly a hundred years ago, State Geologist Samuel Calvin wrote these words about "The Backbone":

"Its sides are in places precipitous, the rocky cliffs rising sheer for more than 80 feet. Erosion and secular decay have carved the rocks into picturesque columns, towers, castles, battlements and flying buttresses."

Backbone consists of 2,001 acres and is heavily wooded with a variety of tree species, predominantly oak and maple. This woodland serves as a valuable refuge for a variety of wildlife including deer, raccoon, fox, turkeys, ruffed grouse and many species of songbirds.

The Civilian Conservation Corps (CCC) was established in April, 1933 as part of the New Deal program of President Roosevelt as an effort to provide work for unemployed Americans during the Great Depression. Many of Backbone's buildings were constructed by the CCC from 1933 to 1941. Among the projects completed at Backbone were the dams on the Maquoketa River forming Backbone Lake, a cluster of rustic family cabins, beach and boat house, an auditorium, bridges, roads, picnic shelters, rest rooms and trails. Some of these structures are currently being restored and the effort is continuing.
Backbone has 21 miles of hiking and multi-use trails. Visitors can hike along trails winding through old twisted and windblown cedars and up rough, rocky staircases to one of the highest points in northeast Iowa, the "Devil's Backbone." During winter, visitors can cross-country ski and snowmobile.

Bicyclists can pedal through scenic splendor and explore the park on these designated trails; Barred Owl, Bluebird, East Lake and West Lake. Mountain bikes must stay on the trails.
---
---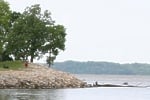 Hotels/Motels
You will feel right at home when you reach Carroll County, our corner of beautiful Northwest Illinois. The magnificent Mississippi River and outdoor spaces will refresh your spirit and touch our soul.
78.6 miles from park*