APPLE RIVER CANYON STATE PARK
APPLE RIVER CANYON STATE PARK
8763 E. Canyon Road
Apple River, Illinois   61001
Phone:
815-745-3302
Reservations:
815-745-3302
Email:

Apple River Canyon State Park is in the hilly northwest art of Illinois in Jo Daviess County near the Wisconsin border. This scenic canyon area was formed by the action of the winding waters of Apple River. Limestone bluffs, deep ravines, springs, streams and wildlife characterize this area which was once a part of a vast sea bottom that stretched from the Alleghenies to the Rockies.

The 297-acre park was purchased by the State of Illinois in 1932. Apple River is also in charge of other sites in JoDaviess County, Apple River Canyon State Park - Thompson and Salem Units, Witkowsky Wildlife Area, Tapley Woods, Hanover Bluff Natural Area, Hanover Bluff Nature Preserve, Wards Grove Nature Preserve, McKeague Unit Nature Preserve and Falling Down Prairie.
Flowing endlessly for countless centuries, the Apple River has cut through the masses of limestone, dolomite and shale until massive cliffs now rise high above the water and canyons have formed. Vast ages of water and erosion widened and deepened the crevices as rivers and streams cut their way through the stone. Close-up views of the colorful canyon reveal walls dotted with mosses, lichens and tenacious bushes which have found crevices to hold their roots on the sheer walls.

The glacial sweep which ironed out hills and filled valleys in other parts of the state left this area unscratched. This circumstance accounts for the large number of fossil remains to be found near the surface here. It also was responsible for the easy availability of the lead veins that has much to do with the early development of this section of Illinois.

The park contains such wildlife as deer, squirrels, rabbits, raccoons, eagles, hawks and 47 varieties of birds. At least 14 different ferns and over 500 different herbaceous plants and 165 varieties of flowers can be seen throughout the park.
Joutel, who was in the Mississippi Valley in 1687 and who was later to record LaSalle's expedition, wrote tales of Indian lead mines told by travelers to the "Upper Mississippi." The first white man to see the lead mines was Nicholas Perrot, a French trader who settled on the east side of the Mississippi in 1690. The first to exploit them was a Scotch adventurer, John Law. His Company of the West, founded in Paris in 1717 on the fraudulent claim that the Illinois lead mines were well-developed, collapsed with a thud, which was heard all over France and went down in history as the "Mississippi Bubble." In the nineteenth century American settlers arrived, the Sauk and Fox Indians were driven out in the Black Hawk War and Galena, thriving on the profits of lead mining, became a roaring boom town. Miners by the hundreds entered this country through a canyon which is now one of the principal attractions of the Apple River Canyon State Park.

The town of Millville was established where the park is now, but not a trace of it remains. Named after its two sawmills, Millville became a stop on the Galena-Chicago stage route and flourished until 1854 when the Illinois Central Railroad, building its line from Freeport to Galena, passed four miles north of the town. In 1892 a devastating flood washed out the dam, swept away many buildings and drove out the people of the town forever.
Apple River Canyon State Park offers 49 Class C sites without showers in the Canyon Ridge Campground and 6 group sites in the Walnut Grove Youth Campground.
The Apple River has a variety of fish including smallmouth bass, sunfish, crappie, carp and suckers. The river is one of several in the state where the Illinois Department of Natural Resources releases keeper-size trout. Trout require clean, clear, cold water and in the spring, Apple River meets these requirements in the spring, however, the fish do not survive through the hot summer months, so the stream is stocked for seasonal trout fishing seasons.
---
Apple River Canyon State Park is

Lake Le-Aqua-Na State Park
---
Hunting is available in the Thompson and Salem Units, Iris and Jack Witkowsky Wildlife Area , Tapley Woods Natural Area, Hanover Bluff Natural Area, Wards Grove Nature Preserve, Rall Woods Natural Area, and Winston Tunnel Natural Area.
Four picnic areas with tables, grills, accessible drinking water and toilets may be found along the river?s banks. There are also three shelters, two are handicap accessible. The reservation form is available on this website or may be obtained by contacting the park office.
Five trails - Pine Ridge, Tower Rock, River Route, Sunset and Primrose Trail (handicap accessible) - wind through the woods for several miles within the park.
Discover JoDaviess County with Wineries, Antique Shops, Riverboat Cruises, 10 Golf Courses, Historic Sites and Museums, Spa Services and excellent Dining all within 30 minutes of Apple River Canyon State Park. For more information, contact the JoDaviess County Visitors Bureau at 877-464-2536 or at www.galena.org.
---
---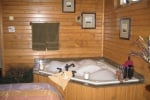 Cottages and Cabins
More than just lodging, it's home to 12 cabins located on 10 wooded acres just minutes from Lake Carroll approximately 30 minutes from beautiful state parks such as Mississippi Palisades, Lake Le-Aqua- Na, White Pines Forest, Rock Cut, Morrison-Rockwood. A romantic whirlpool cabin with fireplace or country kitchenette can accommodate everything from intimate parties to family reunions. Enjoy our friendly atmosphere beside the bonfire or in our 8-person hot tub.
22.8 miles from park*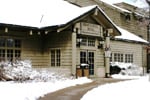 Hotels/Motels
Relax in the rustic beauty and comfort of Starved Rock Lodge, Cabins and Starved Rock Inn. The historic Lodge has 69 guest rooms, which include three bay-window rooms, plus cabins nestled in the woods. Fireplaces can be found in four of the eight sunset cabins near the pool area...
95.2 miles from park*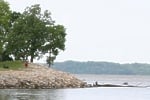 Hotels/Motels
You will feel right at home when you reach Carroll County, our corner of beautiful Northwest Illinois. The magnificent Mississippi River and outdoor spaces will refresh your spirit and touch our soul.
21.9 miles from park*
Apple River Canyon State Park is located 2 ? hours west of Chicago. Take I-90 West to US Rt. 20 located by Rockford. Take US Rt. 20 West for approximately 50 miles to Rt. 78 North. Turn right onto Rt. 78, go 6 miles to Canyon Road. Take a left on Canyon Road. The park is well signed on Rt. 20 and Rt. 78.

Apple River Canyon State Park is located in the Northwest corner of Illinois. If you are traveling from the south, you can take I-39 to Rockford, then US Rt.20 West to Rt. 78 North, go 6 miles to Canyon Road, take a left on Canyon Road. The Park is well signed on Rt. 20 and Rt. 78.

Lake Le-Aqua-Na State Park