ANDREW JOHNSON NATIONAL HISTORIC SITE
ANDREW JOHNSON NATIONAL HISTORIC SITE
Andrew Johnson National Historic Site honors the life and work of the nation's 17th President and preserves his two homes, tailor shop, and grave site. Andrew Johnson's life exemplifies many struggles faced by Americans today. He worked his way from tailor to President. He stood strong for his ideals and beliefs. His presidency, from 1865 - 1869, illustrates the United States Constitution at work following Lincoln's assassination and during attempts to reunify a nation that had been torn by civil war. His work helped shape the future of the United States and his influences continue today.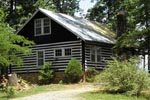 Cottages and Cabins
Nestled in the foothills of the Smoky Mountains near historic Greeneville, Tennessee, Nolichuckey Bluffs offers a relaxing escape with East Tennessee hospitality.
4.8 miles from park*
---
Andrew Johnson National Historic Site is located near Greeneville
---
The following attractions remain open to the public: the Visitor Center which includes a 14 minute film, a museum, and the president's Tailor Shop; the Early Home which includes exhibits about Andrew Johnson; and the National Cemetery where the president and his family are interred.

Special events include Memorial Day Program on May 30th of each year, commemorative birthday program on December 29th, and Constitution Day program on September 17th.
---
---