ANASTASIA STATE PARK
Located south of historic St. Augustine, the park's hardwood forest of ancient oaks was in its youth when Juan Ponce de Leon landed near the area in 1513 and gave Florida its name. On Anastasia Island, park visitors may enjoy a broad beach, a lagoon bordered by tidal salt marsh, and maritime and upland hammock.

Camping, beachcombing, swimming, picnicking, windsurfing, hiking, wildlife-viewing, and boating are popular activities. Nature trails meander through the maritime and upland hammock that covers ancient sand dunes. For anglers, Anastasia is a great place to haul in the big catch. The park's full-facility campground is in a wooded area within easy bicycling or walking distance of the beach.

Island Joe's camp store, rental shop, and tropical grill sells beach sundries, camping and fishing supplies, and rents bicycles, beach chairs, ocean toys, umbrellas, canoes, sailboards, and kayaks. Lessons on various water sports are available. Call 904-461-9322 for more information.
More than 300 years ago, sites like the coquina quarries located within Anastasia State Recreation Area were busy with workmen, mostly Native Americans, hauling out blocks of rock. By the late 1700?s, the Native American population had died out and quarry workers were usually enslaved Africans. With hand tools, they hewed out blocks of the soft shellstone and pried the squares loose along natural layers in the rock. The blocks were loaded onto ox-drawn carts, then barged across Matanzas Bay to the town of St. Augustine. The blocks were used to construct the Castillo de San Marcos and many other public and private buildings.

From its founding in 1565, St. Augustine had been a struggling outpost of Spain?s American empire. Spanish soldiers built their fort and their homes out of the pine trees and palmetto that were so plentiful. Time after time, their wooden settlement was destroyed by storms or burned by pirates and other European raiders. On Anastasia Island, the Spaniards discovered a better building material deposits of a rock made of broken shells. As early as 1598, they dug enough to build a gunpowder storage magazine. But they had neither the manpower, the engineering skills nor the tools to excavate enough for a large structure.

Finally, in 1671 large-scale quarrying began in the stone pits. Anastasia Island was even called Cantera, Spanish for quarry. This site is one of several on the island; the St. Augustine Amphitheater is located in another site. Coquina rock is relatively soft and easy to cut while in the ground and hardens when exposed to air. The Spanish learned to waterproof the stone walls by coating them with plaster and paint. Coquina rock has a unique feature that made it ideal for a fort.

When besieging ships bombarded the Castillo, the walls simply absorbed the cannon balls. Coquina continued to be a prized building material not only to the Spanish but later to the British (1763-83) and the Americans (1821).
Annual Entrance Passes can be purchased at all park ranger stations and museums. If you require immediate use of your pass, this is the best option. Passes can be purchased during regular business hours 365 days a year. Please call the park in advance to ensure availability. Those who are eligible for discounted or free passes may use this method to receive their pass. Annual Entrance Passes may be purchased online by visiting the
FLORIDA STATE PARKS ANNUALENTRANCE PASSES
web page.
Anastasia State Park has a 139 site campground that is equipped for both tent campers and RVers. Each site has a picnic table, an in-ground grill, fire ring and water. All sites are equipped with electricity, if needed. None of the sites have sewer hookups, but there is a dump station located in the campground, as well as dumpsters for your household trash. For your convenience, there are two public telephones in the park; one is located in the camping area and one at the picnic area. Each of the sites is located in a shady hardwood hammock, away from the blowing sand and salt spray of the beach. However, most sites are within walking distance to the beach. There are natural barriers between each site that allow privacy for the visitor. Since one of the goals in state parks is preservation, site sizes vary. There are a few sites that can accommodate camping rigs up to 40'. Reservations for campsites may be made up to eleven (11) months in advance by contacting ReserveAmerica, toll-free, at 1-800 326-3521 (8:00 am to 8:00 pm), 1-888-433-0287 (TDD) (For Hearing Disabled). Nightly

Camping Rates for Anastasia State Park are:

Year Round: $23.00 plus tax

(Rates subject to change without notice.) Camping supplies can be purchased at

Island Joe?s, located near the entrance to the beach. This concession-operated park store offers camping supplies, ice and firewood and has bicycles, beach/water-related and recreational equipment available for rental. Anastasia also offers the Bedtime Story Camper Lending Library of picture books for campers aged four to nine. From pelicans to insects, the Lending Library is a fun way to enhance your child?s experience in the Real Florida. For a quiet afternoon or bedtime, share a story with your child to help explain the sights and sounds of Anastasia State Park. Ask the Ranger Station about how to check out a book.

RV Camping

Numerous spacious and private RV sites at Anastasia State Park allow RV?ers to enjoy the outdoors with access to both electric and water. A communal dump station is available at no extra charge. Please steward the park resources by conserving water and electricity during your stay. Sites are within an easy walk or bike ride from the beach. Tent camping with electric and water is also available.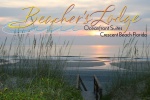 Hotels/Motels
Hotels like this are hard to find. In operation since 1986, Beacher's Lodge is a condo-hotel located on Crescent Beach. All the oceanfront suites have a patio or private balcony overlooking the Atlantic Ocean. The large expanse of white sand always makes for memorable enjoyment.
9.5 miles from park*
Anastasia?s beautiful beach draws visitors from all around the world. With over four miles of pristine Atlantic Ocean beachfront, it?s easy to see why! Anastasia?s beachfront extends southward from the St. Augustine inlet. Walkers, joggers, fishermen, birding enthusiasts, and people just looking for fresh air and a walk with nature all love the beach at Anastasia. Surfers, too, find breakers much to their liking along the beach. Lifeguards are present from Memorial Day through Labor Day, but swimmers should always exercise caution whether a lifeguard is present or not. Swimming in any ocean setting always presents some degree of danger, including the threat of rip currents. Ask the Ranger Station about current ocean conditions, and always heed and advice and warnings posted for your protection.
Anastasia's beautiful beach attracts walkers, joggers, fishermen, birders, and nature-lovers. Quality beach breaks and seasonally warm water draw surfers and kayakers.

A designated swimming area is lifeguarded from Memorial Day through Labor Day, but swimmers should always exercise caution, whether a lifeguard is present or not. Swimming in tidal or ocean areas always presents some degree of danger, including the threat of rip currents. Always heed advice or warnings posted for your protection.

The beach is open to bicyclists and pedestrians, but not to motorized vehicles. Beach wheelchairs are available upon request at no charge. No pets are allowed on the beach--"It's for the birds! "
Salt Run, a tidal salt marsh, is a kayaker's delight. Catamarans and non-motorized boats may also enjoy the area. Operators of motorized craft, please obey signs, follow regulations, and keep your speed very slow (trawling) to preserve the habitat and for the safety of visitors and wildlife. Jet skis are not allowed.
Fishing

The fishing area on Salt Run features a fish identification kiosk, a monofilament disposal bin, and a fish-cleaning station! Waters off the north end of the park are also popular. If you come ashore onto the park during your fishing adventure, please avoid the delicate marsh and fragile dunes. Please take all trash with you, as garbage is harmful to wildlife and unsightly. Thank you!
Surfing

Anastasia State Park hosts some of the better surfing on the east coast of Florida. Four miles of beach break allow visitors to spread out if they like. Blowhole and Middles still attract surfers willing to make the walk or bike ride, but quality beach break is available for the length of the park.

Surfers wear trunks or bathing suits in the summer months, but water and air temperatures may make a full wetsuit desirable in late fall, winter and early spring. Ocean and beach equipment can be rented from Island Joe's Camp Store and Tropical Grille, right in the park by the beach, and local surf shops abound to help visitors, as well.

Entering the water in tidal or ocean areas always presents some degree of danger, including the threat of rip currents. Always heed advice or warnings posted for your protection.