ADAMS NATIONAL HISTORICAL PARK
ADAMS NATIONAL HISTORICAL PARK
1250 Hancock Street
Quincy, Massachusetts   02169
(lat:42.2524 lon:-71.004)

Phone:
617-770-1175
Email:

From the sweet little farm at the foot of Penn's Hill to the gentleman's country estate at Peace field, Adams National Historical Park is the story of "heroes, statesman, philosophers . and learned women" whose ideas and actions helped to transform thirteen disparate colonies into one united nation.
---
Adams National Historical Park is located near Abington, Allston and Arlington
---
---
---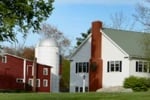 Hotels/Motels
Located on over 100 wooded lakefront acres, overlooking Ashland State Park. Right out our front door you get to truly enjoy the great outdoors. Easy access to trails for hiking, and an area for swimming. Come and enjoy all that Ashland State Park has to offer, and stay at the Warren Center right next door.
23.3 miles from park*
Traveling on U.S. Interstate 93, take exit 7 - Route 3 South to Braintree and Cape Cod. Take the first exit off Route 3 south - exit 19 - and follow signs toward Quincy Center. Continue straight on Burgin Parkway through six traffic lights. At the seventh traffic light, turn right onto Dimmock Street. Follow Dimmock Street one block and turn right onto Hancock Street. The National Park Service Visitor Center, located at 1250 Hancock Street on your left. Validated parking is in the garage to the rear.