ADAMS LAKE STATE PARK
ADAMS LAKE STATE PARK
14633 State Rte 41
West Union, Ohio   45693
(lat:38.8134 lon:-83.5201)

Phone:
937-393-4284
Located in Ohio's Bluegrass region, one of the state's most scenic and biologically interesting areas, Adams Lake State Park has much to offer the nature enthusiast. Remnant prairies and a quiet lake can be enjoyed in this small unique park.
Adams Lake State Park lies in an area rich in natural diversity with many unique plants and animals. Wedged between the foothills of the Appalachian Mountains to the east and the glaciated land to the north and west, no other area of Ohio boasts a richer abundance of plant species.

Known as the Bluegrass Region of Ohio, Adams County harbors scattered pockets of prairie communities, a remnant of the past when the great western prairies reached into Ohio. Sometime after the last glacial advance, the climate turned warmer and drier. It was during such periods that the prairie advanced eastward into Ohio. Purple coneflower, little blue stem and prairie dock provide an impressive display during the peak blooming season of mid-summer.

The glaciers which covered most of Ohio did not reach Adams County, but their effect is still evident. As the glaciers advanced and the climate changed, many northern species of plants expanded their range southward and remained after the glaciers retreated. White cedar and maidenhair fern represent two such northern transplants.

Before the glaciers advanced, a great river called the Teays flowed through Ohio. As the glaciers moved forward, they had a profound effect on the drainage system by blocking existing rivers. The ancient Teays River was blocked and its waters were backed up forming the Ohio River. The Teays River transported plants native to more southern conditions to Adams County. Mountain laurel is one
such traveler still found in the area.

Once teeming with elk, buffalo and bear, animals of the region now include numerous songbirds, as well as opossum, gray squirrel, raccoon and other mammals.

The Adams Lake region was once inhabited by prehistoric and mound building cultures, most notably the Adenas and Hopewell. Internationally renown Serpent Mound, the hallmark of the Adena culture (1000 B.C.-100 A.D.) remains a mystery in regard to its origin and purpose. The historical site can be found north of the park near Locust Grove off State Route 41.

The shorter-lived Hopewell culture (100 B.C.-600 A.D.) created Tremper Mound, located along State Route 104 in adjacent Scioto County. Here, effigy pipes which were fashioned in stylized images of native animals were discovered in great numbers.

In more recent history, the powerful Shawnee Nation controlled this area until trappers and traders seized upon its abundance of furbearers. Pioneers followed in vast numbers as the permanent settlement of the Northwest Territory continued. Adams County was one of the original four counties of this huge district.

Adams Lake was originally constructed to provide drinking water for the village of West Union. When an alternative county water system was developed, the state purchased the lake and surrounding land in 1950. The 95-acre park is now operated by the Ohio Department of Natural Resources, Division of Parks and Recreation.
Ohio does not have an annual pass and does not charge entrance fees to state parks.
Nearby State Forest, acres
60,000
Nearby Wildlife Area, acres
4,152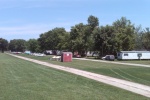 Campgrounds
Family oriented camping sites for a cheaper way to vacation all summer long for a low cost. Activities include, boating, hiking, hunting, fishing, and ATV trail access cookouts and much more Nothing beats a restful evening by a campfire on the riverfront with family and friends
8.6 miles from park*
Only non-powered craft and those with electric motors only are permitted on the lake. A small launch ramp near the park entrance provides access to the 47-acre lake.
Anglers will enjoy nice catches of largemouth bass, bluegill, crappie, channel catfish, bullhead and carp. A valid Ohio fishing license is required.