MONTGOMERY BELL STATE PARK
MONTGOMERY BELL STATE PARK
1020 Jackson Hill Road
Burns, Tennessee   37029
Phone: 615-797-9052
Toll Free: 800-250-8613
Reservations: 800-250-8613
Montgomery Bell State Park is located seven miles east of Dickson in Dickson County. The rolling hills of Dickson County contain a treasure that was considered more precious than gold to the builders of young America. The treasure was iron ore, and it lured men by the hundreds to this area of Middle Tennessee. The site of the first Cumberland Presbyterian Church is located at Montgomery Bell State Park.

The iron industry in Dickson County has been long silent, but the 3,782 acres that make up Montgomery Bell State Resort Park still show the signs of its presence. Near the remains of the Old Laurel Furnace, ore pits, where men once scratched iron ore from the earth, lie quiet and abandoned; the hardwood forest, once heavily cut to clear farmland, and to produce charcoal for the iron furnaces, has slowly healed its wounds. Fox, squirrel, raccoon, opossum, deer and a wide variety of birds and wildflowers have returned to the forest, making Montgomery Bell a place of quiet natural beauty.
Campgrounds provide both 30 and 50 amp. electric service and can accommodate 32 ft. campers on most electrical sites. Campground can accommodate needs from pop-up campers to the largest RV's.

There are 2 pull-through campsites that are accessible to persons with a disability.

There is a creek that runs through the campground with some sites being located along the creek bank.

There are three bathhouses located in the campground, two are accessible to persons with a disability. Picnic tables and grills are available at campsites.

Backcountry camping is allowed and there are three backcountry campsites available. Pack animals are not allowed. A back country camping permit is required. For more information on how to obtain this permit, contact the park office.

Group Camping

Rustic Cabins sleep 120 people in 47 cabins. Built in the 1930's, the buildings are constructed of Crab Orchard stone, hand hewn and quarried in Tennessee and considered a historical landmark. Cabins are located in a rustic setting above Lake Woodhaven.

Campers should bring their own linen, food, ice and charcoal or wood for fire. Provided are 2 ovens, 2 stoves, 2 sinks and a walk-in cooler/refrigerator. There are 2 bathhouses (2 showers in each), sinks, toilets, running water and hot water. On-premise catering is available.
There are 8 two-bedroom vacation cottages located across a cove from the Park Inn and Restaurant with a rustic wooden bridge connecting these two areas. Three of the cabins sleep 8 people, four of the cabins sleep 7 people and one cabin sleeps 4 people.

All beds are double beds and each cabin has one roll-away bed. Cabins are basically open year round (the park is closed at some point during the off season due to regular maintenance-check with the park for these dates), are completely equipped for housekeeping and include television and telephones.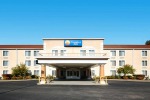 Lake Acorn: 17 Acres:

The Boat dock on Lake Acorn will be open for the summer 2005 season from Memorial Day weekend to Labor Day weekend. Canoes, paddle boats and jon boats are available for rent Monday thru Friday, 9am - 5pm and Sat. thru Sun., 7am - 5pm. After Labor Day weekend, privately owned boats are allowed on the lake provided your boat does not have an outboard motor attached. Trolling motors are allowed.

Lake Woodhaven:

50 AcresLake Woodhaven has a year round boat launch available to the public. Trolling motors are allowed as long as the boat does not have an outboard motor attached. There is no charge to use the boat launch.
---
Get directions
to this park:


---
There are approximately 125 picnic tables scattered throughout the park and close at dark. Two playgrounds are located near picnic sites.

There are 5 picnic pavilions available that will hold 40 to 50 people each. Pavilions may be reserved up to one year in advance. All pavilions have grills and are covered.
With approximately 19 miles of hiking trails Montgomery Bell offers a variety of hiking experiences. From a .75 mile walk in the woods to the 11.7 mile-long overnight/backpacking trails, there are trails for hikers of all experience levels. The backcountry trail has three overnight shelters dispersed along its length, open year-round.

Trail maps may be purchased at the park office from 8-4 Monday thru Friday or at the Inn and Conference center anytime.

The collection of park plants and animals is prohibited by state law.

Dogs (and other pets), horses, hunting, firearms, fireworks, and alcoholic beverages are not allowed on park trails.

USE OF MONTGOMERY BELL OVERNIGHT TRAIL

HIKINGMaintain at least 3 mile distance between hiking parties. No more than six people are allowed in any one party unless a special permit is obtained from the park manager. Enjoy yourself, but remember to protect all natural features and the rights of other park visitors. Please leave the trails in the same, or better condition than you found them.

CAMPINGA camping permit must be obtained from the park manager, available at the visitor center. Prior reservations are recommended. Camping is permitted only at designated campsites on the Montgomery Bell overnight trail. For this purpose several shelters have been built. Please leave your campsite in such a condition that no one could tell you had camped there. Cutting of live vegetation, littering, piling of rocks, and other activities that would detract from the natural beauty of the park are forbidden.

MOTOR VEHICLES / HORSES / BIKESNo motorized vehicles, bikes or horses are permitted on any park trail. However, some trails utilize existing roads for short distances and hikers should exercise caution in using these sections.

WATERWater can be found in several springs and creeks throughout the park. This water must be treated with purification tablets or by boiling to make it safe for consumption.

LITTERThe park operates trails on a carry-in-carry-out policy. All disposables that you carry onto a trail must be packed out. If anyone before you has been careless enough to leave litter along the trail, you are encouraged to carry it out.

SANITATIONHuman wastes should be deposited at pit toilets located at each campsite.

COLLECTION OF PLANTS AND ANIMALSThe collection of park plants and animals are prohibited by state law. However, berries, nuts, and fruits of park plants may be picked in season for personal use only.

OTHER RULESAxes or hatchets are not allowed to be carried along the trails. Small backpack saws are permitted.
Gift Shop

The gift shop offers a wide assortment of gifts, collectibles and souvenirs. You can choose from a variety of items such as a cap and t-shirt to a crystal ornament or a walking stick hand crafted in Tennessee, picture frames, magnets, mugs and plush animals for the kids. And if you have forgotten your toothbrush, we have that too! Please come in, browse and enjoy.

Get-Away-Package Specials

Check out our special Get-Away-Packages and take advantage of special discounts on inn rooms, etc.
---
Area Fishing Related Businesses
Steve & Rita's Market & Pizza
4109 Highway 70 E
White Bluff, TN
(615) 797-4555


I-40 West from Nashville, to Exit 182 (Fairview/Dickson Hwy. 96 Exit). Turn left (West) onto Highway 96. Stay on Highway 96 until it deadends at Highway 70. Turn right (East) on Highway 70, off-ramp provided. Stay on Highway 70 approximately 3 miles. Park entrance is on the right.

From Memphis (I-40):Take I-40 East to Exit 182 (Fairview/Dickson Hwy. 96 Exit). Turn left (West) onto Highway 96. Stay on Highway 96 until it deadends at Highway 70. Turn right (East) on Highway 70, off-ramp provided. Stay on Highway 70 approximately 3 miles. Park entrance is on the right.