MONTGOMERY BELL STATE PARK
MONTGOMERY BELL STATE PARK
1020 Jackson Hill Road
Burns, Tennessee   37029
Phone: 615-797-9052
Toll Free: 800-250-8613
Reservations: 800-250-8613
Montgomery Bell State Park is located seven miles east of Dickson in Dickson County. The rolling hills of Dickson County contain a treasure that was considered more precious than gold to the builders of young America. The treasure was iron ore, and it lured men by the hundreds to this area of Middle Tennessee. The site of the first Cumberland Presbyterian Church is located at Montgomery Bell State Park.

The iron industry in Dickson County has been long silent, but the 3,782 acres that make up Montgomery Bell State Resort Park still show the signs of its presence. Near the remains of the Old Laurel Furnace, ore pits, where men once scratched iron ore from the earth, lie quiet and abandoned; the hardwood forest, once heavily cut to clear farmland, and to produce charcoal for the iron furnaces, has slowly healed its wounds. Fox, squirrel, raccoon, opossum, deer and a wide variety of birds and wildflowers have returned to the forest, making Montgomery Bell a place of quiet natural beauty.
Campgrounds provide both 30 and 50 amp. electric service and can accommodate 32 ft. campers on most electrical sites. Campground can accommodate needs from pop-up campers to the largest RV's.

There are 2 pull-through campsites that are accessible to persons with a disability.

There is a creek that runs through the campground with some sites being located along the creek bank.

There are three bathhouses located in the campground, two are accessible to persons with a disability. Picnic tables and grills are available at campsites.

Backcountry camping is allowed and there are three backcountry campsites available. Pack animals are not allowed. A back country camping permit is required. For more information on how to obtain this permit, contact the park office.

Group Camping

Rustic Cabins sleep 120 people in 47 cabins. Built in the 1930's, the buildings are constructed of Crab Orchard stone, hand hewn and quarried in Tennessee and considered a historical landmark. Cabins are located in a rustic setting above Lake Woodhaven.

Campers should bring their own linen, food, ice and charcoal or wood for fire. Provided are 2 ovens, 2 stoves, 2 sinks and a walk-in cooler/refrigerator. There are 2 bathhouses (2 showers in each), sinks, toilets, running water and hot water. On-premise catering is available.
There are 8 two-bedroom vacation cottages located across a cove from the Park Inn and Restaurant with a rustic wooden bridge connecting these two areas. Three of the cabins sleep 8 people, four of the cabins sleep 7 people and one cabin sleeps 4 people.

All beds are double beds and each cabin has one roll-away bed. Cabins are basically open year round (the park is closed at some point during the off season due to regular maintenance-check with the park for these dates), are completely equipped for housekeeping and include television and telephones.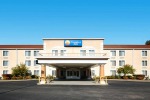 The Comfort Inn hotel is conveniently located off Interstate 40, offering easy access to many nearby business parks and industrial areas also including Montgomery Bell State Park, offering boating, fishing, and miles of trails for hiking and mountain biking.
5.6 miles from park*
Lake Acorn: 17 Acres:

The Boat dock on Lake Acorn will be open for the summer 2005 season from Memorial Day weekend to Labor Day weekend. Canoes, paddle boats and jon boats are available for rent Monday thru Friday, 9am - 5pm and Sat. thru Sun., 7am - 5pm. After Labor Day weekend, privately owned boats are allowed on the lake provided your boat does not have an outboard motor attached. Trolling motors are allowed.

Lake Woodhaven:

50 AcresLake Woodhaven has a year round boat launch available to the public. Trolling motors are allowed as long as the boat does not have an outboard motor attached. There is no charge to use the boat launch.