JEAN LAFITTE NATIONAL HISTORICAL PARK AND RESERVE
JEAN LAFITTE NATIONAL HISTORICAL PARK AND RESERVE
Jean Lafitte National Historical Park and Preserve was established to preserve significant examples of the rich natural and cultural resources of Louisiana's Mississippi Delta region. The park seeks to illustrate the influence of environment and history on the development of a unique regional culture.

The park consists of six physically separate sites and a park headquarters located in southeastern Louisiana. The sites in Lafayette, Thibodaux, and Eunice interpret the Acadian culture of the area. The Barataria Preserve (in Marrero) interprets the natural and cultural history of the uplands, swamps, and marshlands of the region. Six miles southeast of New Orleans is the Chalmette Battlefield and National Cemetery, site of the 1815 Battle of New Orleans and the final resting place for soldiers from the Civil War, Spanish-American War, World Wars I and II, and Vietnam. At 419 Decatur Street in the historic French Quarter is the park's visitor center for New Orleans. This center interprets the history of New Orleans and the diverse cultures of Louisiana's Mississippi Delta region. The Park Headquarters is located in New Orleans.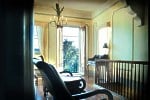 BBs / Inns
Balcony Guest House is 'your bed and breakfast above' Schiro's Grocery and Cafe ground floor... and conveniently located at 2483 Royal Street. Only 6 blocks down river from the French Quarter and 4 blocks from Frenchman Street.
9.6 miles from park*
---
---
---
---
To Park: I-10 to Lafayette and New Orleans.

LA Highway 90 to Lafayette, Thibodaux, and New Orleans.

Amtrak provides services to New Orleans, Schriever (Thibodaux), and Lafayette via the Sunset Limited.

Services to New Orleans are provided on board Amtrak's City of New Orleans from Chicago; Sunset Limited from Los Angeles, San Antonio, Houston, Jacksonville, and Orlando; Crescent from New York, Washington, DC, and Atlanta.

Interstate bus service available to New Orleans and Lafayette.

Major airlines serve New Orleans. Limited commuter airline service is available to Lafayette.

In Park: Personal vehicle, taxi, and limited bus service in New Orleans and Lafayette.