JACOBSBURG STATE PARK
Jacobsburg offers environmental education programs from the preschool environmental awareness programs to high school level environmental problem solving programs, historical programs, teacher workshops and public interpretive programs. Once the site where the famous Henry Rifle was made, the Jacobsburg National Historic District lies almost entirely within the park. Henrys Woods offers very scenic hikes and the rest of the center grounds have multi-use trails.

The center office is open 8 a.m. to 4 p.m., Monday through Friday. The center's main parking area on Belfast Road is open from sunrise to sunset, seven days a week for your enjoyment.

The original land for the center was purchased by the Department of Forests and Waters from the City of Easton in 1959. In 1969, additional land was purchased using funds from Project 70. This brought the total land area of the center to its present size of 1,168 acres.
On the northern edge of the Lehigh Valley, the rolling terrain of Jacobsburg Environmental Education Center is near the foothills of the Pocono Plateau. The habitats range from fields in various stages of successional growth to mature hardwood forests dominated by oak trees. About 2.5 miles of the beautiful Bushkill Creek and its tributary, Sobers Run, wind through the center.

Jacobsburg's natural resources are not only an excellent outdoor laboratory for environmental education and interpretation, but are also important to many visitors from the surrounding area for healthy outdoor exercise and recreation. The natural open spaces provided by this public resource are becoming increasingly important in a continually expanding urban setting.
---
Get directions
to this park: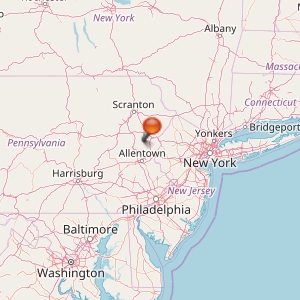 ---
Trails: 18.5 miles of trails

The network of trails makes the center's fields, woodlands and streams accessible to both students and the casual visitor. These facilities are for use by hikers, all-terrain bicyclists, horseback riders and cross-country skiers. We suggest that non-hunters wear blaze orange during hunting seasons.
Jacobsburg was dedicated as an environmental education center in October of 1985, and is one of four environmental education centers operated by the Pennsylvania Department of Conservation and Natural Resources, Bureau of State Parks. Through its environmental education programming at centers and state parks, the Department aims to help develop a citizenry that is aware of and concerned about the environment and its problems, and also has the knowledge, attitude, motivation, commitment and skills to work individually and collectively toward solutions of current problems and the prevention of new ones.

The Jacobsburg environmental education program consists of a variety of quality programs including; student field learning experiences, Youth Environmental Learning Series, Environmental Forums for high school students, Conservation Leadership Schools, the Bureau's Watershed Education, school site and curriculum development, and numerous in-service and pre-service teacher workshops focusing on problem-solving for a variety of environmental issues and natural history. The center's program staff also offers community programs and supports ecological research, in addition to assisting in developing regional and statewide programs that serve educators and other Bureau and Department program and staff needs.

Educators and school groups wishing to participate in a learning experience at Jacobsburg should contact the center office for program scheduling and reservation information.
The Jacobsburg National Historic District lies almost entirely within the boundaries of Jacobsburg Environmental Education Center. The district is on the National Register of Historic Places and its story is intertwined throughout the early development and growth of our nation. The history of Jacobsburg focuses on the Henry Family and their small arms industry; an industry that played a key role in the American Industrial Revolution.

The first of the Henry gunmakers, William Henry I, opened his gun factory in Lancaster, Pennsylvania, in 1750. He became Armorer for the Braddock Campaign of 1755 and for the Forbes Expedition of 1758. William Henry II established a small gunmaking shop in Christian Springs near Nazareth in 1778. In 1792, William Henry II purchased land at Jacobsburg from the heirs of Jacob Hubler, who in 1740 founded the community from which Jacobsburg draws its name. Henry II built a gun manufactory at Jacobsburg. A few years later, he erected a forge (bloomery) to supply the gun factory with iron to manufacture guns. In 1812, a larger manufactory was built in nearby Boulton in order to accommodate large government firearms contracts.

Three succeeding generations of Henrys produced small arms at Boulton until the late 1800s when competition from small arms companies using mass production techniques made the Henry's handcraft technology obsolete. It is still remembered, however, that the Henrys not only produced firearms for all of our nation's major conflicts from the Revolutionary War through the Civil War, but that they were also the primary suppliers of rifles for the largest American business enterprise of the early 19th century, John Jacob Astor's American Fur Company. The Henry firearm became the most prominent weapon of the western frontier due to its durability, accuracy and relatively low cost.

Only the foundations remain from the colonial village of Jacobsburg. The Jacobsburg Historical Society administers and operates one of the most significant and picturesque historic sites in the Lehigh Valley. The Henry Homestead, built in 1812, lies on a beautiful tract of land leased from the Bureau of State Parks. In 1989, the society also acquired the John Joseph Henry House from the estate of Mary Henry Stites. The house, built in 1832, is surrounded by 23 scenic acres. Contact the center office for a schedule of historical programs or for information on the historic district.
---
Area Campgrounds
Jugtown Mountain Campsite
1074 State Route 173
Asbury, NJ
908-735-5995


Delaware River Family Campground
100 Route 46
Delaware, NJ



Windy Acres Campground
294 Newton-Swarstwood Road
Hampton, NJ
973-897-8695


Mountain View Campground
131 Goritz Road
Little York, NJ
908-996-2953


Camp Charles Campgrounds
1077 Blue Mountain Drive
Bangor, PA
610-588-0553


Hickory Lake Campground
264 Laurel Hill Road
Bangor, PA
570-897-5811


Evergreen Lakes Campground
2375 Benders Drive
Bath, PA
610-837-6401


Chestnut Lake Campground
Frantz Road
Brodheadsville, PA
570-992-6179


Shady Acres
1078 Turkey Ridge Road
Mount Bethel, PA
570-897-6230


Don Laine Campground
790 57 Drive
Palmerton, PA



Sunny Rest Resort
425 Sunny Rest Drive
Palmerton, PA
610-377-2911


Silver Valley Campsites
RR 4 Box 4214 Silver Valley Road
Saylorsburg, PA
570-992-4824


Pocono Vacation Park
RD 5 Box 5214
Stroudsburg, PA
570-424-2587


Area Fishing Related Businesses
Little Lehigh Fly Shop
2643 Fish Hatchery Rd
Allentown, PA
(610) 797-5599


Klotz's Bait & Tackle Shop
216 Hess Ave
Hellertown, PA
(610) 838-7970


Dunkelberger's Sports
585 Main St
Stroudsburg, PA
(570) 421-7950


Ixtapa Sport Fishing Charters
19 Depue LN
Stroudsburg, PA
(570) 688-9466


Mike's Bait & Sport Shop
328 E Lawn Rd
Nazareth, PA
(610) 759-2905


East Bath Rod & Gun Club
TS Line
Nazareth, PA
(610) 837-1985


John's Gun & Tackle Room
2604 Freemansburg Ave
Easton, PA
(610) 253-1111


Mac's Hobby Hall
721 Linden St
Bethlehem, PA
(610) 866-8465


Old Lehigh Outfitters Inc
573 Main St
Bethlehem, PA
(610) 332-0450


Willie Marx's Bait Tackle
5105 Main St
Whitehall, PA
(610) 261-2767


Dave's Custom Tackle
4321 Newburg Rd
Bethlehem, PA
(610) 759-7371


Koren Bait Tackle & Arrow
3430 Cannonball Dr
Northampton, PA
(610) 262-0335


Palmerton Rod & Gun Club Inc
RR 1
Palmerton, PA
(610) 377-3404


Bowmanstown Rod & Gun Club
525 Club Rd
Palmerton, PA
(610) 852-4051


Slatington Skeet & Sporting Assoc
8112 Skeet Club Rd
Slatington, PA
(610) 767-0800


Lehigh River Bait & Bow
209 W Union St
Allentown, PA
(610) 432-2511


Clover Hollow Hunting Preserves
6951 Lime Kiln Rd
Slatington, PA
(610) 767-3319


Copeechan Fish & Game Club
5649 Brook St
Schnecksville, PA
(610) 767-9519


Clemens Custom Tackle
Allentown, PA
(610) 395-5119


Sea Mar Tackle Co
1424 W Allen St
Allentown, PA
(610) 432-1780


Izaak Walton Rod & Gun Club
Guth Sta
Allentown, PA
(610) 395-5775


Roseto Rod & Gun Club
30 Shooktown Rd
Bangor, PA
(610) 588-1293


Blue Mountain Rod & Gun Club
Rutt Rd
Bangor, PA
(610) 588-1943


Windsor Fly Shop
348 N 9th St
Stroudsburg, PA
(570) 424-0938


Keystone Rod and Gun Club
Bath, PA
(610) 837-7644


Angler's Paradise & Marine
1300 Mickley Rd
Whitehall, PA
(610) 433-2500


Springtown Rod & Gun Club
Springtown Rd
Springtown, PA
(610) 346-8806


Area Resorts and Lodging
Sunny Rest Lodge
425 Sunny Rest Dr
Palmerton, PA
(610) 377-2911


Alpine Motel
1863 W Main St
Stroudsburg, PA
(570) 421-3790


Walter's Motel
2011 W Main St
Stroudsburg, PA
(570) 424-1862


Water Gap Country Club
Stroudsburg, PA
(570) 476-0300


Countryside Cottages
RR 3 Box 3002
Stroudsburg, PA
(570) 629-2131


Howard Johnson's
63 Route 611
Bartonsville, PA
(570) 424-6100


Flower Fields Motel & Cottages
301 Route 611
Bartonsville, PA
(570) 629-0131


Village at Sciota The
Crest Road
Sciota, PA
(570) 992-5659


Rimrock Country Cottages
425 Rimrock Dr
Stroudsburg, PA
(570) 629-2360


Mountain Springs Lake
Mountain Springs Dr
Reeders, PA
(570) 629-0251


Chateau Resort & Conference Center
300 Camelback Rd
Tannersville, PA
(570) 629-5900


Aurora Spa
607 E Montgomery St
Allentown, PA
(610) 391-3800


At the foot of Blue Mountain in Northampton County, Jacobsburg Environmental Education Center is reached from PA 33 at the Belfast Exit, near Nazareth, PA.