HOPATCONG STATE PARK
HOPATCONG STATE PARK
PO Box 8519
Landing, New Jersey   07850-8519
Phone: 973-398-7010
Nine miles in length and covered by 2,500 acres of freshwater, Lake Hopatcong is the focal point of the park. Hopatcong State Park is at the southwest end of the lake and is a popular spot for fishing, boating, and swimming.
Lake Hopatcong was originally created as part of the Morris Canal, a 90-mile waterway that ran from Newark to Phillipsburg and was the chief means of transporting coal, iron and zinc across New Jersey in the 1860s. The lake was the canal?s major source of water. In 1866, over 880,000 tons of freight was transported on the canal.

However, as the more efficient Morris and Essex Railroad was established, the canal was abandoned. The historical museum is located in the old Morris Canal locktender?s house and offers exhibits on local American Indian history, the Morris Canal and the history of the lake.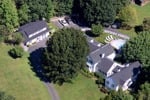 Swimming is permitted at Hopatcong State Park from Memorial Day through Labor Day while lifeguards are on duty. There is a bathhouse complex containing restrooms, showers, changing areas, a first aid room and concession where food and beach supplies are available for purchase. Grilling is limited to the picnic areas only. Grills are not permitted on the lawn areas. There are two sand volleyball courts and a playground near the beachfront. For safety reasons, inner tubes, rafts and other flotation devices are not permitted in the bathing area.
Lake Hopatcong provides an excellent opportunity for any type of boating, ranging from canoes to large motor boats, sailboats, sailboards and jet skis. Boats are available for rent at many private marinas around the lake. Boating is subject to New Jersey Boating Regulations and Marine Law.

There is a boat ramp available at Hopatcong State Park. Boating is open seven days a week depending on parking availability.

There is a boat ramp with parking available at Lake Musconetcong. This site is open from sunrise to sunset seven days a week.

$10.00/launch - Daily$55.00 - Annual

* Fees charged at Hopatcong State Park on Saturdays and Sundays only, from April 1 through the Sunday before Memorial Day; and from the first Saturday after Labor Day through October 31.