HOFFMASTER STATE PARK
HOFFMASTER STATE PARK
6585 Lake Harbor Road
Muskegon, Michigan   49441
Phone: 231-798-3711
Reservations: 800-447-2757
1,100 acres of forest covered sand dunes along three miles of Lake Michigan sandy beach. Located in a wooded valley are 293 shaded campsites, picnicking, swimming, ten miles of hiking trails, snowshoeing. A marked three mile cross-country trail requiring intermediate skill is available. The Gillette Visitor Center provides interpretations of dune ecology. Metal detecting area.
Hoffmaster-Group Use Area(231) 798-3711 2 site(s), Contact the ParkGroup Use Area, Rustic Site, Vault Toilet

Hoffmaster-Modern(800) 447-2757 293 site(s)Campsites with 50 amp Service, Electrical Service, Modern Restrooms, Playground
---
Get directions
to this park: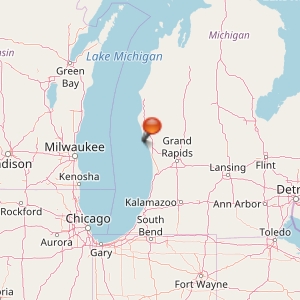 ---
Fire pits/grills available. The picnic shelter is reservable, for more information contact the park.
With more than 10 miles of trails, the casual hiker or the serious student of nature will find a variety of interesting natural features. Upland, shoreline and aquatic birds are abundant. Hawks soar on the air currents of the dunes when winds are from the east. A main attraction is the Dune Climb Stairway leading to the top of a high sand dune. There, an observation deck offers a panoramic view of the dunes and Lake Michigan.

Hofflmaster-Walk-a-MileTrail Length: 1.00 (Miles)Hiking

Hoffmaster-Dune OverlookTrail Length: 1.00 (Miles)Hiking

Hoffmaster-Homestead TrailTrail Length: 3.00 (Miles)Cross Country Ski, Hiking
Throughout the year, the visitor center offers lectures, guided hikes and special events. Program information is available from the center. Schools may take advantage of visitor center programs during the school year. A classroom, complete with seasonal teaching displays, is available. Orientation programs are offered to first-time groups. Environmental topics are taught by the visitor center staff on a limited basis. Classes include a guided outdoor experience. Groups are limited to 35 students.
P.J. Hoffmaster State Park features forest-covered dunes along nearly three miles of Lake Michigan shore. Its sandy beach is one of the finest anywhere. A focal point of the park is the Gillette Visitor Center.
---