BIG BOTTOM STATE MEMORIAL PARK
BIG BOTTOM STATE MEMORIAL PARK
2741 OH-266
Stockport, Ohio   43787
(lat:39.5331 lon:-81.7737)
Phone: (740) 559-2411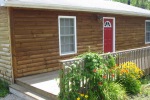 Cottages and Cabins
Escape to the Heart of Southeastern Ohio. Enjoy the peace and tranquility as you relax in the hot tub located just off the back deck. Create your own home cooked country style meal in the fully equipped kitchen. Just minutes from Burr Oak State Park.
11.3 miles from park*
Cottages and Cabins
Burr Oak State Park - Located in the rolling hills of southeastern Ohio. Rose's Vacation Cabin Rental is a special place to make your Honeymoon, Anniversary, or Family Getaway a relaxing experience.
13.7 miles from park*