BAYOU SEGNETTE STATE PARK
Bayou Segnette State Park offers the best of everything. Just a thirty-minute drive across the Mississippi River from New Orleans, a multitude of recreational opportunities awaits visitors of all ages--boating, fishing, canoeing, picnicking, playgrounds and, of course, swimming in the wave pool, as well as an ecosystem that offers you the chance to spot plants, trees and wildlife from both swamps and marshland.

Both salt and freshwater fishing are available because of the park's unique location. From the boat launch, you may explore many areas not readily accessible by overland routes. Catches of bass, catfish, bream, perch, redfish and trout are common in the area.

On land, picnic areas are available for the whole family, and the playgrounds will delight the children. Group shelters are a perfect spot for large groups to gather, and the park's group camp provides another option for big gatherings.

After you have splashed the day away in Bayou Segnette's popular wave pool or skipped across any one of the adjacent waterways by boat, you will be glad you took the time to sit back and watch nature at play--for the wildlife is abundant and the vegetation worth closer study.
The overnight accommodations available to you at Bayou Segnette State Park include 98 campsites with water and electrical hook-ups and a nearby comfort station, tent camping, and a group camp (currently under construction) that can sleep 120 people.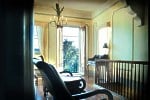 Balcony Guest House is 'your bed and breakfast above' Schiro's Grocery and Cafe ground floor... and conveniently located at 2483 Royal Street. Only 6 blocks down river from the French Quarter and 4 blocks from Frenchman Street.
8.3 miles from park*
---
---
On land, picnic areas are available for the whole family, and the playgrounds will delight the children. Group shelters are a perfect spot for large groups to gather, and the park's group camp provides another option for big gatherings.
St. Bernard State Park-- (18 miles southeast of New Orleans at Poydras)--Located on the Mississippi River, just minutes from New Orleans, the park features 51 improved campsites, a covered pavilion with grill, picnic tables, playground, swimming pool and nature trail in a tranquil and quiet setting.

Fort Pike State Historic Site-- (adjacent to Old Spanish Trail/US 90, approximately 23 miles east of downtown New Orleans)--This historic masonry fort was completed in 1827 to defend New Orleans. Stroll through arched casemates and stand overlooking the Rigolets as sentries once did, enjoy living history programs, visit the museum or picnic at the pavilion.

Fairview Riverside State Park-- (12 miles east of Madisonville on LA Hwy. 22)--Nestled among magnificent live oaks on the edge of the cool clear waters of the Tchefuncte River, this park features 81 improved campsites, excellent fishing, canoeing, and picnicking. A nearby boat ramp offers access to the park and Lake Pontchartrain.

Fontainebleau State Park-- (South of I-12 and southeast of Mandeville on US 190)--Located on 2,800 acres on the north shore of Lake Pontchartrain, the park offers 130 improved campsites, 180 unimproved campsites, nature trails, three group camps, a lodge, a swimming pool and beach, a playground and the ruins of a plantation brickyard and sugar mill situated among an alley of towering oaks.

Louisiana State Museum(French Quarter, New Orleans)--One of New Orleans' top ten attractions, the State Museum is comprised of the Cabildo, Presbytere, 1850 House and Old U.S. Mint.

Barataria Preserve-Jean Lafitte National Historical Park & Preserve(7400 LA 45, Marrero)--Explore 20,000 acres of forest, swamp, and marsh on eight miles of boardwalk, hard-surfaced trails, or over 20 miles of waterways managed by the National Park Service. A Visitor Center with exhibits is located on site.

New Orleans and the Historic French QuarterVisit downtown New Orleans, museums, casinos, Aquarium of the Americas, the Riverwalk, or take a cruise on the Mississippi River.

Mississippi River Road Plantations(Off LA 48 and 44 east of the Mississippi River and LA 18 on the west side)--Travel the River Road Scenic Byway and discover the charms of the antebellum South by visiting many restored plantation homes, creole cottages, centuries-old cemeteries and ferry boats located along the Great River Road on both sides of the Mississippi River north of New Orleans.

Chalmette Battlefield-Jean Lafitte National Historical Park & Preserve(8606 W. St. Bernard Hwy., Chalmette)--This is the site of the Battle of New Orleans, an American victory over the British in the War of 1812. Visitors may also tour Beauregard House and Chalmette National Cemetery.

Bayou Sauvage National Wildlife Refuge(20 minutes northeast of downtown New Orleans off I-10 east)--You can fish, hike, bike or canoe the wildest part of New Orleans in these scenic wetlands. There are free tours every weekend in this prime birding area.

Isleno Cultural Center(Violet)--The museum depicts the history of the Islenos, descendents of Spaniards from the Canary Islands, now living in St. Bernard.
---
Bayou Segnette State Park (7777 Westbank Expressway, Westwego, LA 70094; 504-736-7140 or 1-888-677-2296) is located across the Mississippi River from New Orleans. With boat ramps, a beautiful marsh environment, camping, cabins, a group camp, swimming, fishing and playgrounds, this park offers unforgettable outdoor experiences. There are three primary routes to reach the park. (1) From I-10, take I-310 south. Cross the Luling Bridge over the Mississippi River, and exit US 90 east (toward New Orleans). US 90 becomes the Westbank Expressway. As you enter Westwego, look to your right. (2) Alternatively, from I-10 (in Metairie), take the Clearviw exit south. Follow Clearview all the way to the Huey P.Long Bridge and cross the Mississippi River. Travel to the Westbank Expressway (Business US 90). Again, look to your right off the expressway. (3)Or, from New Orleans, follow I-10 to cross the Greater New Orleans Bridge. Take the first exit onto Business US 90, which is the Westbank Expressway. Follow the expressway for several miles; the park will be on your left. To reserve a cabin, group camp, meeting room or picnic pavilion, call 1-877-CAMP-N-LA toll free (877-226-7652).