ARCHBALD POTHOLE STATE PARK
ARCHBALD POTHOLE STATE PARK
Dalton, Pennsylvania   18414
Phone: 570-945-3239
Toll Free: 888-727-2757
Reservations: 888-727-2757
Archbald Pothole State Park is a 150-acre park in northeastern Pennsylvania. The park is named for Archbald Pothole, a geologic feature that formed during the Wisconsin Glacial Period, around 15,000 years ago. The pothole is 38 feet deep and has an elliptical shape. The diameter of the pothole decreases downward. The largest diameter is 42 feet by 24 feet. At the bottom it is 17 feet by 14 feet. The pothole has a volume of about 18,600 cubic feet, so could hold about 140,000 gallons. It would take 35 fire truck tankers to fill the pothole.
Archbald Pothole was discovered in 1884 by coal miner Patrick Mahon while extending a mine shaft. Mr. Mahon fired a blast of explosives and water and stones came rushing out. The miners fled fearing that the mountain was falling on them. Edward Jones, the manager of the mining company, investigated and ordered the area cleared of debris. About 800 to 1,000 tons of small rounded stones were removed and Mr. Jones realized that the vertical tunnel was a large pothole.

About 1,000 feet north of Archbald Pothole, another pothole was found, but it was thought to be larger than the first pothole and was not excavated because of the excessive cost.

Archbald Pothole was briefly used as a ventilation shaft for the mine. A large fire kept burning in the bottom made the pothole function like a chimney, drawing air out of the mine. In 1887, Colonel Hackley, the landowner, built a fence and retaining wall around the hole. Edward Jones gave many tours of the pothole to local citizens and to noted geologists. The pothole became a popular tourist attraction. In 1914, the widow of Colonel Hackley donated a one-acre deed, which included the pothole, to the reformed Lackawanna Historical Society.

With the addition of 150 acres, Archbald Pothole became a Lackawanna County park in 1940. The county deeded the property to the Commonwealth of Pennsylvania 1961, andafter improvements, Archbald Pothole State Park was dedicated in 1964.
---
Get directions
to this park: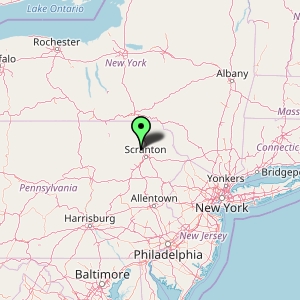 ---
A small loop trail starting at the wayside follows an old coal mine tram road passed rock ledges and through a forest.
Hickory Run State Park, Boulder Field: 14 acres of jumbled stone caused by severe weather of the last glacial period. The glacier end moraine crosses the park. Hickory Run State Park can be reached at Exit 274 off of I-80. Follow PA 534 east to the park. 570-443-0400

Seven Tubs Natural Area: Glacial meltwater eroded the bedrock and created a series of potholes in an area now called Whirlpool Valley. Owned by Luzerne County, Seven Tubs can be reached at Exit 164 off of I-81. Follow PA 115 south for 2.5 miles. The park is on the right. 570-477-5467

Tannersville Cranberry Bog: This 150-acre wetland is the southernmost low altitude boreal bog on the eastern seaboard. It contains carnivorous plants, rare orchids and other plants. The bog is owned by the Nature Conservancy and can only be visited during scheduled tours. 570-629-3061
---
Area Campgrounds
Lake Moc A Tek Campground
PO Box 481
Hamlin, PA
570-226-3433


Cherry Ridge Campground
147 Camp Road
Honesdale, PA
570-488-6654


Countryside Family Campground
1157 Bethan Pike
Honesdale, PA
570-253-0424


Ponderosa Pines Campground
31 Ponderosa Drive
Honesdale, PA
570-253-2080


Shore Forest Campground
Forest Street
Hop Bottom, PA
570-289-4666


Clayton Park Recreational Area
26 Eagle Eye Dr
Lake Ariel, PA
570-698-6080


Secluded Acres Campground
Avoy Road
Lakeville, PA
570-676-0695


Three Pines Campground
Route 590
Lakeville, PA
570-226-6286


Keen Lake Camping
155 Keen Lake Road
Waymart, PA
570-488-6161


Valley View Farm
RD 1 Box 1348
Waymart, PA
570-448-2268


Area Fishing Related Businesses
Billy's Bait & Tackle
Route 307 N
Lake Winola, PA
(570) 378-3001


Ray's Bait & Tackle
220 Main St
Pittston, PA
(570) 654-9555


Z's Bait & Tackle
Route 92
Falls, PA
(570) 388-6801


Carbondale Guns
38 N Church St
Carbondale, PA
(570) 282-6500


Sanhelen's Sport Shop
1385 Hancock Hwy
Honesdale, PA
(570) 251-7704


Ted's Bait & Tackle
1597 Mount Cobb Rd
Lake Ariel, PA
(570) 689-4181


Anglers Vice Fly Fishing
104 S State St
Clarks Summit, PA
(570) 587-2737


Area Resorts and Lodging
Clarion Inn
300 Meadow Avenue
Scranton, PA
(570) 344-9811


Montage Mountain Ski Resort
1000 Montage Mountain Rd
Scranton, PA
(570) 969-7669


Carmen's Radisson Lackawanna Sta Hotel Scranton
700 Lackawanna Ave
Scranton, PA
(570) 342-8300


Endless MT Resort
RR 1
Union Dale, PA
(570) 679-2400


Keen Lake Camping Resort
RR 3 Box 1976
Waymart, PA
(570) 488-6161


Hickory Ridge Resorts
182 Ski Run Rd
Honesdale, PA
(570) 253-1511


Archbald Pothole is in Lackawanna County, nine miles north of Scranton. The park is easily reached from Interstate 81. Take Exit 191A to Business US 6 east towards Carbondale. The park entrance is six miles on the right.