WAPSIPINICON STATE PARK
WAPSIPINICON STATE PARK
21301 County Road E34
Anamosa, Iowa   52205
Phone:
319-462-2761
Reservations:
877-427-2757
Email:

The shaded campground has 30 campsites (15 with electrical hookups), modern rest rooms and showers. Starting February 13, 2006 advance campsite reservations can be booked through the park reservation system. Half of the campsites are still available for self-registration on a first-come, first-serve basis.
Don't forget your golf clubs. There is a nine hole golf course within the park boundaries, maintained by the Wapsipinicon Country Club. For information, call 319/462-3930.

Wapsipinicon State Park, dedicated in 1923, was one of Iowa's first state parks. It lies just south of Anamosa on the Wapsipinicon River (locally referred to as the Wapsi). The sandstone and limestone bluffs in the 394-acre park are covered with moss and columbine. Hiking through a multitude of flowers, trees and wildlife leads one to splendid views from the bluffs.

The quiet walker along the Wapsi, or Dutch Creek, which runs through the park, may see a deer stop to drink, a beaver constructing a dam, or a wild turkey strutting through the forest. Mushrooms, nuts and berries may be harvested in the park.

There are unforgettable views from the road that winds between the river and bluffs. The white pine forest is one of the oldest plantings in Iowa and creates a feeling of being "way out west" or in Paul Bunyan's "far north" territory.
Fishing:

The Wapsi River has long been famous for its channel and flathead catfish, spring crappies, bullheads and smallmouth bass, especially below the dam near the park entrance. Dutch Creek meanders through the park and empties into the Wapsi. At its mouth, fishing is good almost anytime. This is also a feeding area for walleye and northern, providing anglers with a great challenge.
---
Wapsipinicon State Park is located near Cedar Rapids, Marion
---
Wapsipinicon is a great place for a family picnic. Several open picnic shelters are available and may be reserved for a fee through the park ranger.
Multi-use trails take you down to Dutch Creek but the Ice Cave and Horse Thief Cave and out to the recreation area. The multi-use trails are open to hiking, cross country skiing and snowmobiling. A hiking trail and nature trail are located in the northern part of the park.

Bicycling:

The Northeast State Park Bike Route is a 130 mile route which connects Wapsipinicon State Park, Pikes Peak State Park and Backbone State Park utilizing county highways.

Carry your own gear and "rough it" in the campgrounds or take comfort in a local "bed and breakfast" or motel along the route, some of which offer a shuttle service for gear or luggage at a nominal fee. Reservations for this service must be made in advance. Detailed route brochures are available.
Anamosa is immediately north of the park. The State Men's Reformatory is here. Cedar Rapids, Iowa's second largest city and the home of Coe College, is 20 miles southwest on U.S. 151. Stone City, the birthplace of artist Grant Wood, Mount Vernon and Monticello are all close to the park.
---
---
Blue Inn
250 North Main Street
Monticello, IA
319-462-0770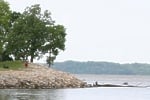 Hotels/Motels
You will feel right at home when you reach Carroll County, our corner of beautiful Northwest Illinois. The magnificent Mississippi River and outdoor spaces will refresh your spirit and touch our soul.
57.6 miles from park*