STEAMBOAT ROCK STATE PARK
Steamboat Rock State Park is a 3,522-acre camping park with 50,000 feet of freshwater shoreline at the north end of Banks Lake. Dominating the landscape is a columnar, basaltic rock with a surface area of 600 acres. Two campground areas and a large day-use area are on sweeping green lawns, protected from winds by tall dramatic poplars. The surrounding areas are carpeted with wildflowers, adding to the gray-green brush of the Scablands. A sandy swimming area and boat launches make the area a favorite for visitors who enjoy water-play and want respite from the hot, summer sun. In the midst of desert, the park offers both lush green lawns and rocks for climbing. Miles of horse trail are open for day use. A hiking trail leads to Northrup Lake, a natural forest area with water access open 24 hours a day.



Check-in time is 2:30 p.m., and check-out time is 1 p.m. Quiet hours are from 10 p.m. to 6:30 a.m.Engine-driven electric generators may be operated only between the hours of 8 a.m. and 9 p.m.Length of stay: You may stay up to ten consecutive days in any one park during the summer; the stay limit is extended to 20 days between Oct. 1 and March 31.

Park hours/updates:

The park is open year round for camping and day use.

Summer: 6:30 a.m. to dusk.Winter: 6:30 a.m. to dusk.

Winter weatherization occurs Oct 15 - March 31: The water is shut off at individual campsites. Please plan to use the winter water supply near the main restroom. Also, the watercraft launch docks are removed until the lake is no longer freezing.

Reservation and registered campers may enter campground after dusk.

Camping:Check-in time, 2:30 p.m.Check-out time, 1 p.m.Quiet hours: 10 p.m. to 6:30 a.m.
Wildlife Mammals Birds Fish & Sea Life? Bears? Bobcats? Coyotes? Deer or Elk? Muskrats? Rabbits? Crows or Ravens? Doves or Pigeons? Ducks? Eagles? Geese? Gulls? Hawks? Herons? Hummingbirds? Jays? Owls? Pheasants? Quail? Swans? Turkeys? Woodpeckers? Bass? Perch? Trout? Walleye

Environmental Features Physical Features Plant Life

The area has gray-green scrub and lush green lawns. It's an oasis in desert surroundings. Dramatic poplar trees and a huge lake mark the terrain.

Temperatures range between 80 to 100 degrees in the summer. The park averages 11 inches of annual rainfall and six inches of snowfall.

?Ponderosa Pine? Birch? Maple? Poplar
Steamboat Rock is a long-established area landmark, first used by nomadic Native American tribes and then by early settlers. The military currently uses the area for aircraft flying training missions. The basalt butte rises 800 feet above Banks Lake. It was once an island in the Columbia River bed. When the Columbia returned to its natural course, after centuries of being dammed by ice, the massive rock remained.

There is also a well-engineered road, built in the late 1800s, that winds through and up the south side of Northrop canyon. Once used by stage coaches and freight wagons, it was named after one of the original homesteaders.
Available in the park Available in the area? Pay phone? Fire wood? Auto repair? Airport? Camping? Diesel? Fishing/hunting? Gasoline? Gifts? Golf? Groceries? Hardware? Hospital? Marine supplies? Overnight Accommodations? Pay phone? Postal service? Propane? Recreational equipment? White gas? Wood? Swimming

Steamboat Rock has a concession- operated store, located in the day-use area, with fast food, basic groceries, firewood, ice and fishing supplies. Grand Coulee Dam provides tours, a visitor's center and a nightly laser-light show.
The park has 26 tent spaces, 100 utility spaces, one dump station, five restrooms (four ADA) and six showers (four ADA). The park also has 12 primitive boat-in campsites with vault toilets and water.

Utility sites have full hookups. Maximum site length is 50 feet (may have limited availability). Tents must be placed within the designated tent pad.

Vehicle tires must remain entirely on the pavement at all times. Boat trailers may be parked on the lawn, provided the towing vehicle does not back onto the lawn. All lawns are irrigated daily. Mosquito control occurs as required by the Grant County mosquito district evenings when weather permits.

Two vehicles are allowed per campsite; campsite fee includes payment for one vehicle. Extra vehicle fees are due upon arrival.

There are 44 primitive campsites with vault toilets at Jones Bay (no water available), 36 primitive campsites with vault toilets at Osborn Bay (no water available) and 12 boat-in campsites (with water) north of the main campground launch (these sites are not reservable). All primitive sites are first-come first-serve.

Northrup Point water access is available 24 hours a day.

Northrup Canyon has five campsites for equiestrian campers. These sites require a reservation. To reserve call (509) 633-1304 or call the park at (509) 633-1304.

To reserve a campsite at Steamboat Rock State Park call (888) CAMPOUT or (888) 226-7688.

Group Accommodations:The park offers a group camp that accommodates up to 50 people (20 minimum). It is located in the Jones Bay campground of Steamboat Rock State Park seven miles north of the main park on Hwy 155. There is a CXT vault toilet and parking for 20 vehicles of which only ten can be RVs. Shower facilities, drinking water, RV dump station and boat launch are located two miles south of Jones Bay at Northrup Point. Fees vary with size of the group. To reserve, call (888) CAMPOUT or (888) 226-7688.
The park has seven boat ramps at three locations on Banks Lake and 320 feet of dock for boat handling only. A marine PortaPotty station is available.

Five moorage bouys are located at the north end of Steamboat Rock

A daily watercraft launching permit and a trailer dumping permit is available at the park.Annual permits also may be purchased at State Parks Headquarters in Olympia, at region offices, online, and at parks when staff is available.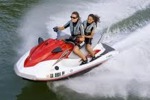 Storage
We rent premium well maintained equipment including SKI BOATS, JET SKIS, and PONTOON BOATS We are located at Sunbanks Lake Resort outside of Electric City, which is 20 minutes from Steamboat Rock State Park, 35 minutes from Sun Lakes State Park, as well as only 5 minutes from Grand Coulee Dam. We also deliver to the surrounding areas. Call 509-681-0283 or 509-633-8079
4.5 miles from park*