SPRING LAKE STATE PARK
SPRING LAKE STATE PARK
7982 South Park Rd.
Manito, Illinois   61546
Phone:
309-968-7135
Email:

Spring Lake Fish and Wildlife Area is located in Tazewell county, 25 miles southwest of Peoria on the east side of the Illinois River.

In 1950 the state made the initial land acquisition of the 632 acres. The total acreage is now 2,032.

The lake lies almost parallel to the Illinois river for 8.5 miles up the river bottoms along the base of the river's east bluff. Spring Lake was described as a meander by an 1840 survey, and title was given to the State of Illinois. Overlooked by a large sandstone bluff, Spring Lake is a long, narrow lake created by a meander of the Illinois River. The lake covers and area of 1,285 acres, has a maximum depth of 10 feet and has 18 miles of shoreline.

The lake water level was raised by the construction of a higher dike in the late 1950's. The expanded lake was completely filled by 1960. The new lake was completely filled by 1960. The new lake is nearly twice the size of the old Spring Lake and has also inundated another lake known as Saiwell Lake.
Pine Campground and Oak Campground, located in the north park, are Class C campgrounds (no showers or electric sites). Seventy sites provide tent and/or trailer camping. A trailer disposal station is available.

A Class D, walk-in campground is located in the south park for tent camping only. Group camping is permitted in this campground.
There are two gravel and one concrete launching ramps on the north lake. South Lake has one concrete boat launching ramp. Boat motors are limited to 25 horsepower and there are creel and length limits on most species. Ice fishing is permitted, but caution should be used due to underwater springs, which can weaken ice.
---
Spring Lake State Park is located near Canton, Pekin and Peoria
---
Early residents of the Spring Lake area were mound building Native Americans. The most noted tribes throughout the river valley at the time the French arrived included the Peoria, Kaskaskia, Cahokia, Tamaroa and Michigamie. Most of the Native American people were driven out of the valley by around 1770, and tribal remnants ceded last claims to the area in 1833. White settlement of the Spring Lake valley began around 1830.

Steamboats penetrated up the Illinois River to Peoria in 1829 and by the mid-1800s a significant commerce developed along the river in commodities such as grain and meat. Spring Lake at that time became a feeder-type waterway joined to the river by a backwater slough.

Establishment of the Spring Lake Drainage and Levee District in 1903 resulted in construction of a large dike around the bottoms containing Spring Lake, and boat access to the river was no longer possible. Therefore, the Drainage District was required to construct a marine railway over the dike to accommodate water traffic. Legend has it the railway was used only once, eventually fell into disrepair and was abandoned. Spring Lake also was used by shallow draft vessels for navigational purposes until about 1915.
Dickson Mounds Museum - Is an Illinois State Museum and a National Historic Site, is one of the major on-site archaeological museums in the United States. It offers a unique opportunity to explore the world of the American Indian. Located approximately 30 miles southwest of Spring Lake near Lewistown, Illinois. There is no admission charge. Phone number (309) 547-3721.

Jake Wolf Memorial Fish Hatchery - Located atop a natural aquifer the hatchery can simultaneously accommodate 16 different species of fish and produce some 42 million fish annually. The hatchery's Visitor Center contains an antique fishing tackle exhibit featuring over 200 artifacts. Located approximately 10 miles south of Spring Lake near Topeka, Illinois. There is no admission charge. Phone number (309) 968-7531.
---
---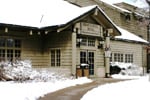 Hotels/Motels
Relax in the rustic beauty and comfort of Starved Rock Lodge, Cabins and Starved Rock Inn. The historic Lodge has 69 guest rooms, which include three bay-window rooms, plus cabins nestled in the woods. Fireplaces can be found in four of the eight sunset cabins near the pool area...
73.4 miles from park*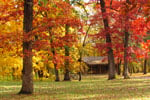 Cottages and Cabins
Within a 10 minute drive from Starved Rock and even closer to Matthiessen State Parks you will find a gorgeous, tranquil property with spacious cabins on 50 wooded acres. All with full kitchens and outdoor fire pits. 3 dog friendly.
65.7 miles from park*
From the city of Pekin, take Illinois Rte 29 south approximately 1 mile to Manito Rd, turn right (west) and go 10 miles to Spring Lake Rd (1000 N), turn right (west) and go 3 miles to North Park Entrance. You will then be able to follow signs to the South Park.

If traveling north on IL Rte 29, at the town of Green Valley, turn left (west) on Toboggan Avenue (6000 N) and go 7.5 miles to Manito Road (2960 E), turn right (north) and go 4 miles (through the town of Manito) to Spring Lake Road (1000 N), turn left (west) and go 3 miles to North Park Entrance. You will then be able to follow signs to the South Park.