SAM DALE LAKE STATE FISH WILDLIFE AREA
Gently rolling terrain, lush woods and a beautiful lake make the Sam Dale Lake State Fish & Wildlife Area the perfect spot for a family outing. Located northwest of Johnsonville in Wayne County, this area has something for everyone: fishing, hunting, picnicking, camping and swimming. Visitors may see quail, rabbit, dove, squirrel, deer, muskrat, fox, raccoon, owls, turkey, hawk, woodstock, or beaver as they roam the timber or brushy fields of the park. The highlight of a visit here will be Sam Dale Lake, a beautiful 194 acre lake with eight and a half miles of shoreline to hike around, swim in, or just sit beside and enjoy. In addition, several smaller ponds are home to fish and wildlife.
The initial 40-acre piece of land was purchased in 1959. Since then, additional land has been added totaling 1,302 acres in the State Fish & Wildlife Area. The site was named for Sam O. Dale, an eight-term state representative who also served as a teacher, principal, and superintendent of schools in Hamilton County.
FACILITIES AND ACTIVITIES OVERVIEW
Two Class B/E campgrounds provide the overnight visitor with necessary amenities in a shady, secluded section of the park. These campsites have electricity and a sanitary dump station. One has a playground close by for small children. There are also tent and group camping areas, including a handicapped pad in one campground.fall trees by the lake
A buoy-marked swimming area is available on the west side of the lake with a large beach area for sun-bathers. This is a "swim at your own risk" beach; no lifeguards are present. Swimmers under 17 must be accompanied by a responsible adult. The swimming area is open daily from Memorial Day weekend through Labor Day weekend. No alcohol is allowed.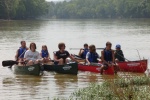 A store that caters to all of your boating, hunting, fishing and outdoor adventure needs. We offer canoe and kayak rentals for one and two day trips on the White River. New G3 brand jon boats as well as a used inventory. NEW White River Cabin on a peaceful river bank setting.
98.7 miles from park*